Floating Kitchen Shelves. If you are looking for saving storage for your small kitchen that consumes only a little space, floating kitchen shelves will suit your needs. Installing floating shelving can give a chance of possessing additional storage for your kitchen. The lack of inserting more storage space has gained its popularity since last year. The style of new floating kitchen shelves brings more modern and efficient rooms that offer you to keep your frequently used tools like notes, gadgets near to your scope.
Aside from providing extended storage space for your kitchen, floating shelves let you be creative in arranging your utensils. They allow you a chance to display those utensils and gadgets in a chic aesthetics display where necessary.
Read Also: Trending Kitchen Wallpaper Ideas 2020
What are The Best Floating Shelves?
Pick any material or style which suits your kitchen model. Wood is excellent for those who fancy the beachy vibes or summer hint. The iron-built shelves will strengthen the minimalist look and be more decor touches to cooking utensils.
Are Floating Shelves strong?
You can start considering the strength of your floating shelves based on the usage. Then, you need to measure how much weight you put on the shelves and what dimensions are required to get everything onto it comfortably. Also, you can adjust the size and strength of the shelves to meet your needs.
The next consideration, think of the depth of the shelves. The deeper your floating shelf, the less weight it can hold. If you get that kind of shelves, install the more durable bracket to hold the shelves.
How do I Make My Floating Shelves Stronger?
You may be pleased to get more things on your floating shelves. Indeed, more floating shelves capacity will need more rods for your floating shelf bracket. You can find a decent floating shelf bracket to the nearest furniture store. Choose a bracket that has enough horizontal rods welded onto it to support your shelf comfortably.
Furthermore, you will also need a proper quantity of screws to hold heavier floating kitchen shelves. They have to do everything to support the bracket, shelf, and everything on them. Mount the floating shelves into a solid wall such as wall studs or masonry blocks to maintain high weight capacities. Therefore, if the bracket is not installed to something solid, flex and sag can occur anytime.
Floating Kitchen Shelves Design Ideas
While the others think standard kitchen cabinetry makes your kitchen look great for tidy look-kitchen, another believes open shelves bring the opposite. The floating shelves that come without doors offer you not only as a practical addition to standard kitchen cabinetry but also serve the minimalist architect vibe. Ignore any thought on how this open space will show your kitchen clutter terribly. With some creative touch, you definitely can take the open shelves style to its insanely chic characteristics. Let us guide you with these kitchens styles that may inspire you to decor your kitchen with floating kitchen shelves.
1. Traditional Kitchen Style
Freeing up some space and bringing a large, bright, wide-open feel to your kitchen with some simple wooden kitchen shelves. For the next touch, you can give your kitchen a personal touch with some decorations that show others your hobby. 
2. Contemporary Kitchen Style
You think of building your floating shelves as the additional storage, so put consideration in your mind about what you will need for daily use. Be practical about things you choose to place on your floating shelves. You may need favorite coffee mugs, plates and bowls, and some glasses in reachable space.
3. Modern Kitchen Style
This modern kitchen is in line with an aspiration for the all-white kitchen idea. The floating kitchen shelves twins with the white cabinet adds a dimension of more extensive space of storage. The stainless steel appliances add the final modern touch to the area.
4. Farmhouse Kitchen Style
Inspired your mind with this farmhouse kitchen style, which comes in the elegance of black and white. The black-colored furniture plays a calm tone for the bright white floor and walls. The small custom-made floating kitchen shelves are also painted in black, seemingly in pairs with the L-shaped cabinet.
5. Industrial Kitchen Style
Decorate your industrial kitchen style with salvaged material such as wood for your interior compliment. These industrial floating shelves, which are made of wood, blend well with the reddish brick wall, bring the color tone that enhances our memory back to the industrial era in the eighteenth century.
6. Mid-century Modern Kitchen Style
This mid-century modern kitchen style will take your kitchen to another level. Combining the white stainless steel wall mount range hood with a series of natural floating shelves will take the heart of anyone who visits your kitchen. You can place your favorite things like a pot of rose or wine glasses.
7. Rustic Kitchen Style
Wood always brings a warm and joyful vibe to your rustic kitchen style. Pick your floating kitchen shelves ikea to complete the feeling of the open shelf kitchen. The open natural wood shelves are great for this rustic style kitchen
8. Scandinavian Kitchen Style
While red and wood bring the warmest tone to your kitchen hue, the Scandinavian kitchen style presents a simple yet beautiful environment to complete your house decoration. The L-shaped floating kitchen shelves are pretty small as a storage item but sure are functional.
9. Shabby-chic Kitchen Style

Bring the small corner kitchen in the open space to make the area look wider. Install a series of chic and minimalist L-shaped cabinets to keep the clutter out of sight. Don't forget to add some floating kitchen shelves to cheer the atmosphere with some playful decoration. Match the color of the cabinets, the floating shelves, and the wall mount range hood to let space seem larger.
10. Transitional Kitchen Style
You may consider installing a set of floating shelves in case renovating your old kitchen to a new one. Take a look at this one. This transitional kitchen style will give a lovely hint to your new kitchen. The wall is covered with a contemporary aesthetic design. The mix of the dynamic pattern wall floating wood-tone shelves creates an airy feeling to space.
Floating Wood Kitchen Shelves
Instead of looking for a futuristic design to remodel your lovely kitchen, you may fall in love with beautiful, wooden floating shelves. That kind of shelf offers a floating shelf coming straight out from the tiled wall. You can either create your floating shelves DIY or find the one you need from the nearby store.
Combination to Minimalist
Take a look at this minimalist kitchen. The stainless steel appliances, wood floating shelves, and white cabinets serve the greatness of this combination. The kitchen shows its consistency with the clean lines and minimalist style. Close the touch with some dim lighting in the partial part of the kitchen.
Long Floating Shelves Suits The Navy
If you love things related to sea or navy style, this one should fulfill your favor. Decorating your lovely kitchen with the wall with blue scallop pattern tiles and long floating shelves. For more storage items, install a wooden stick between your floating shelves to hang some stainless steel appliances. The appliances that are kept in the line deliver neat space.
Illusion Dim Light for Your Shelves
Bring modern style to your kitchen with this trendy design. Set the brown floating shelves with hanging glass covers. Don't forget a few dim lights to create a serene feel to your set of containers. For the last touch, white and marble backsplash will make you proud of your kitchen design choice.
Various Elements Make Luxury
Need luxurious magic in your kitchen? Try this beautiful kitchen composites with various textures and materials. From limb pattern, multiple stainless steel utensils, and reddish brick walls, all the elements create a stunning atmosphere. Install some LED lights to the top of your floating shelves to provide magnificent accent lighting.
Wall Mounted Kitchen Shelves for Urban Style
Want something that looks like urban style life? Invest wall mounted kitchen shelves to your mid-sized urban style kitchen. Give a touch of wooden furniture, white backsplash, subway tile backsplash… and voila, get your dream kitchen.
Floating Stainless Steel Kitchen Shelves
The collection of ideas below will give great input for those who are looking for stainless steel floating kitchen shelves. The shelves of this material come in various shapes, sizes, and designs. They offer you not only a practical use but also have some decorative power if you install them properly.
Minimalist Yet Useful
When the first time moves to your new home, the kitchen may be the next room to go after you decorate your bedroom. It's tempting to get your kitchen as stylish as possible, especially for people who love cooking. The stainless steel floating kitchen shelves will offer you a useful yet minimalist decorative style to your new kitchen. You can also have a white large dining table with a set of cabinets and retro-style chairs. Since it becomes a beautiful place to prepare your meal and airy space where your close people could gather on a special occasion.
Industrial Model for Your Modern Kitchen
A series of stainless steel, metallic furniture, and appliances emphasize that the inspiration of this modern kitchen comes from an industrial model. Large metallic storage such as cabinets and cooking appliances like the gas range with two burners, grill, and convection oven for the modern design on point. Complete the industrial model with the industrial floating shelves to show your fine wine glasses collection.
Orange for Your Cool Gray Kitchen

Not all people have the opportunity of owning a large kitchen space. Play with your imagination and creativity. Try the concept of open, airy space for this small kitchen. The mix of small contemporary wall and gray dominated color for the floor and kitchen appliances will give you a little idea about the open concept kitchen. Install orange stainless steel floating shelves to brighten the cool tone of gray.
Masculine Industrial Steel
Combine the hint of black wood texture for cabinets and floor with white part for walls and the top side of the cabinets. The fusion between those colors keeps consistent with the masculine industrial look. Blend the white stainless steel floating shelves to the industrial kitchen. Moreover, the pattern of wood contributes a sense of texture in this modern vibe kitchen.
Traditional Steel For Clasiness
Black always is an endless inspiration for house decoration. The black-colored stainless steel floating shelves will complete the classiness for the timeless white walls.
White Floating Kitchen Shelves
White floating shelves are perfect for your kitchen. It suits a variety of design styles, from traditional to modern chic. The white can create coziness and beauty for its surroundings. Furthermore, it's also practical. It helps you to visually make the room larger than it is. For your consideration, we list five best floating shelves for kitchens we encountered in Amazon.
Wonderful Functional Floating Shelves
Enhance your kitchen display by this functional storage. This charming square shape white shelves provide you with additional storage for your kitchen and avoid unnecessary clutter for its surrounding. For those who only acquire little space as the kitchen, these shelves can give an illusion of a wider dimension kitchen. It's easy to install or get modifications based on our needs. If you doubt their strength to hold your things above them, don't worry. It's quite sturdy to you to arrange and show your small collections and keep them on the surface
The Set of Natural Rustic Floating Shelves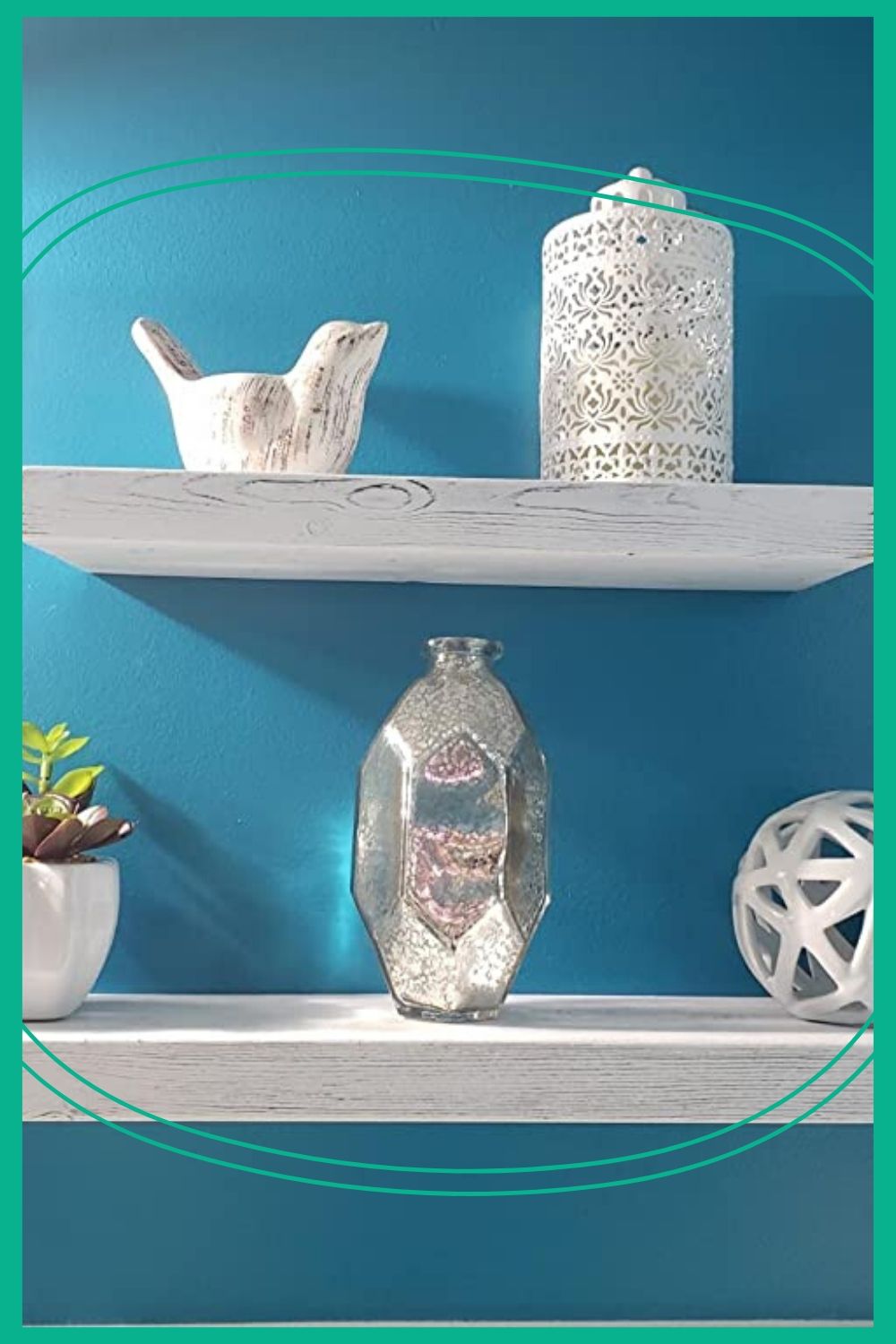 Rustic style defines the use of natural materials such as wood and stone for decoration and furniture. This set of rustic floating shelves delivers their organic elements. The design is simple, natural, and has an earthy vibe. The set of shelves divides into three different dimensions; 24″, 20″, and 16″, which can provide you enough storage to keep your favorite dishes. Moreover, the wood boards' thickness is 1.5 inches, and has power to endurance up to 25 lbs.
The Corner Floating Shelf for Small Kitchen
This pack of corner kitchen floating shelves set suits for your small kitchen. It's small but strong enough to keep your favorite decoration or small plant to sweeten the atmosphere. The set comes with brackets to make it more durable and weep away your awareness of fragility. For the installation, lock the set position in right Angle corner of 90 degrees.
Strong White Carving Pattern Design
Strong, luxurious, yet elegant accent, it's all you get if you choose this floating shelf. Its carving pattern, wide dimension (approximately 24″), and strong honeycomb board structure will make you regret if you miss this one as your floating kitchen shelf.
SImple and Easy to Install
Let us introduce you to this simple white floating shelf. It's sturdy and can hold up to 15 lbs. Moreover, it comes with screws for the wall mounting installation. In case of removal, you can do it with a Flathead screwdriver, leaving holes only slightly bigger than a pinhole.
Read Also: Best Kitchen Island Lighting Design
Conclusion
We understand that it's quite complicated to choose the best floating shelves for your kitchen. There is a diverse range of floating shelves that are sure to make any kitchen more spacious, organized, and aesthetically pleasing. Carefully select the floating kitchen shelves not only based on your need but also to create a beautiful kitchen design.