DIY Living Room Decor. Your living room is an area where you have the flexibility to produce. It's a location that you can explore your style. Whether you intend to create a relaxing, stylish ambiance or a rustic, woodsy feeling, your decor will help your vision become a reality.
Luckily, a lot of decors can be made by yourself. From wall art, furniture, simple decor, you can optimize your DIY skills and minimize the costs. With these DIY living room decor ideas, and design will offer you lots of motivation to make it happen. Finds decoration that matches to yours' unique design and yours' special crafting skills
Related Topic: DIY Bedroom Decor Ideas
DIY Living Room Wall Decor
The living room is one of the most seen places in our home — and also typically, one of the unique places. Mostly it's a place where you take a break at the end of a busy day or where friends and family gather and share quality time. No matter your room's purposes, giving the room energy by creating DIY living room wall decor with individuality and style. With these DIY wall decor design suggestions, will make your ideas to decorate your living-room in such a way you've only ever imagined.
DIY Bamboo Sunburst Mirror
Creating creative things in your living room is a lovely idea. Making a pop-up object on it will make the eyes who see it stunned. Like this sunburst mirror, only use simple materials to make your living room look fantastic and awesome. Also, this is one of the best diy living room decorating on a budget you can create.
Materials:
Mirror
Bamboo
Glue
Tape
Saw
Spray paint (optional)
Sand paper (optional)
You can buy bamboos, or maybe you want to take it by your self. After you have the bamboo, start cleaning it. You can use sandpaper, or perhaps you want it natural like the original one. It's based on your want and need.
Then, start to sketch the mirror by using the tape. It will make you easy to put the bamboo, with that pattern make it easy to put the bamboo on the perfect place. Because placing is essential things, to make the sunburst come out.
Last, start to attach the bamboo and mirror. You can use wood glue, glue gun, or maybe superglue. Use the saw to measure how long bamboo you need. Use your imaginative skill to make it natural and beautiful to look.
After all, to make it unique and more like an original sunburst, you can spray it with gold or metal color. But, if you want it to look natural, you can maintain the original color of the bamboo.
DIY Wall Art Painting
Transform your old canvas became unique wall art by using your DIY skills can happen now. This DIY living room wall decor will be guiding for you. Thank's to madeinaday.com, who was bringing this idea comes true.
Supplies you need to make this DIY wall decor:
Rectangular old canvas
Acrylic paint
Drawing paint
Paintbrush
Gold paint pen
After all the canvas you covered with acrylic paint. You will able to start painting. Use your painting skill to make it look natural, start to make the first tree, then continue it.
Last, to make it look peculiar, you can gold heart with a symbol of your name on it. With this wall art for living room decor, will make your living room look artistic and elegant.
Colorful Paper Sun Crafts
This wall decor is one of the very creative ideas on decorating a living room wall. The crafting skill of this person is breathtaking and robust. It make this creation became cheap diy living room decor you can make. With this wall will make your living room look colorful so that might bring a positive atmosphere on your living room.
Supplies:
Scraps of card stock paper
Glue
Scissors
Pencil
Canvas
You can visit alittlehut.blogspot.com to see the full tutorial.
DIY Rustic Living Room Decor
Beautiful home originates from how your decor and design it, especially for each room in it. Among the most beautiful place to decorate your home is the living-room. This living room can be your display area to show everyone just how you treat your home. There are lots of home decor ideas that you can use it to decorate your living-room, and rustic decoration is the awesome one among them.
DIY Old Wood Vase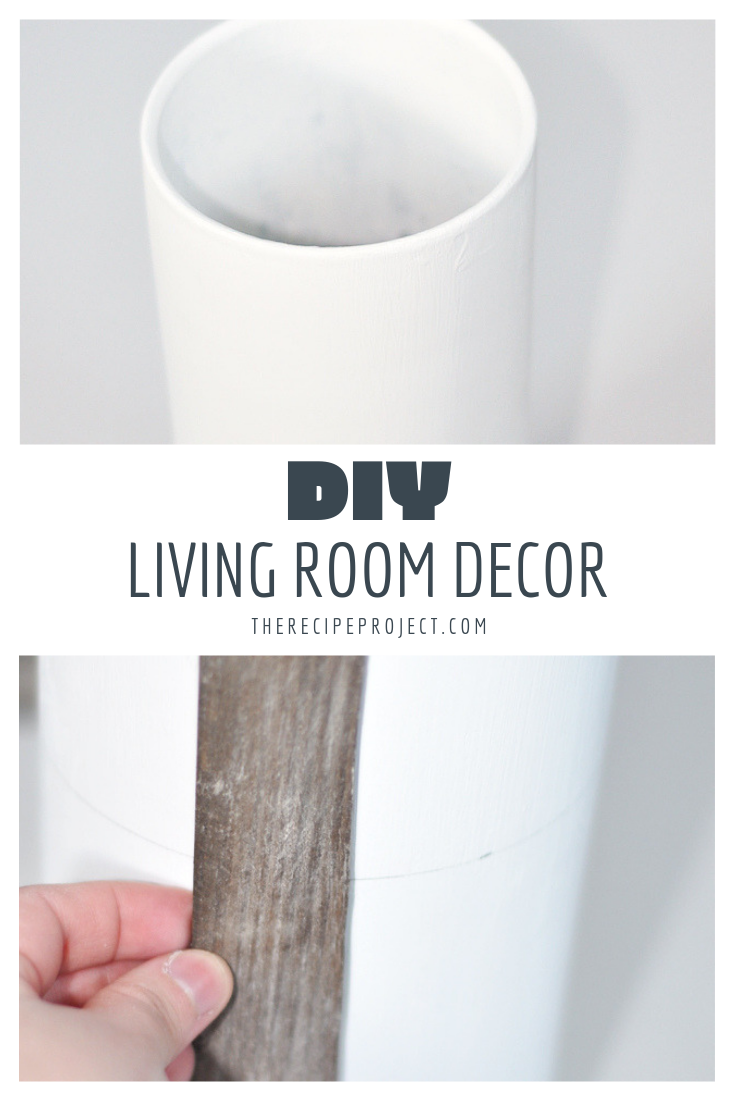 Wood always be the perfect diy living room decorating ideas on a budget to showing rustic feeling. For you who like a rustic theme, this DIY vase can be the best decor for your living room — only using simple and cheap materials to make them. Also, isn't the higher level of crafting, so it will easy to make it.
Materials:
Old wood shims
Vase
Glue
Jute cord
Paint
Start it with embed the wood to the vase. You can use wood glue or super glue to stick it firmly. After around the vase are covered by the wood, you can twine it with the jute cord. It will support the rustic atmosphere to come.
Last, you can use the vase for your plants. It will make your living room natural and fresh. Thank you to lovegrowswild.com to bring this homemade diy living room decor. You can visit the site to get more DIY ideas.
Imaginative Farmhouse Tree Candle
Making living room decoration by yourself will be unforgettable things. This is one of the best diy living room ideas for small room. Notably, the decor is very useful for you. The decor can you use as candlelight. On the other hand, it makes your living room fell natural. It makes this candle is very suited for yours.
Supplies:
Branches of tree
Candle
Sand paper (optional)
Jute cord
You can drill the branches, consider the size. The size must be the same as the place of the candle. So, you can put the candle in, then to make the branches soft, you can use the sandpaper. But, if you like the natural texture, don't do that. After all, you can combine all the branches with the rope. This candle is suitable for christmas living room decor or fall living room decor DIY.
Dollar Tree Flying Jar
Creating a flying jar on your living room wall will be the best option. Like this jar candle, it can be the lantern a night. Also, it will bring a romantic feeling in your living room. Then, a rustic style of planks wood and stone make your living room look classic. You can see here to have more info and the step to make this rustic flying jar.
DIY Living Room Furniture
In this section, you'll get DIY living room furniture ideas you did not think of yet. It's so great for us to be able to supply you with innovative and creative ideas — also, DIY living room furniture project to help you personalize your area at its highest. Have a look at our ideas; you'll wind up re-imagining your living-room as an area different and unique from other living room!
DIY Wood Crate Furniture
Sometimes in our living room, the television desk will make us spend much money on it. Mostly the furniture is expensive. But, with this DIY wood crate will cut your budget. Then DIY furniture will decrease your cost on it. Also it will make you living room look minimalist.
Only use a wooden crate as the primary materials of this television desk. Another element that supposed to be you have is drill, screw, and sandpaper. Just secure all crates with the screw and drill it. Also, it can be the storage for you to put a book, room decor, or maybe CD's.
Simple Desk Decor
Have a table on your living room is fundamental in this era. Because we spend much our time in the living room, sometimes we put foods or drinks there. That make table became the essential things. It also supports the atmosphere on our living, but generally, living room table is expensive.
So, to solve the problem of the budget. DIY became the best solution; creating a unique DIY table for your living will make your money save. This simple DIY table with cheap materials can be the perfect option. You can check it here to see the contents and full tutorial to create it.
Wood Crate Storage
Storage is one of the essential things in our living room. We sometimes spend a lot of money for our warehouse. Although, storage also can be as decor, so it makes us must choose the best and beautiful storage. But, not all of us have enough amount and not every expensive item will be excellent for our living room decor. You can create it by your crafting skill, and you will decrease the budget, and also it will be identical and unique living room decor on your home.
Thank you to Tara Michelle Interiors, who are giving us ideas to make unique storage for our living room. To make this furniture, you must collect these supplies:
Wood crates
Sander or sandpaper
Sponge brush
Rags
Wood stain color
Wood finishing wax
Drill and screwdriver
Screws
L Bracket
Gloves
First, change the color of your wood crates by using the wood stain color and finish it with wax. Don't forget to use your gloves while coloring the box crates. After all, boxes dried, start to sketch it. How to look do you want, it must be beautiful as a living room decor and also useful as storage. Moreover, with this box crates as the primary materials will bringing rustic atmosphere on your living room
Then, you can combine each box with screw and l-bracket. Those things will make the storage strong and solid. After everything already done and perfectly embed, put the storage on the best place of your living room. You can put everything on it, which is support your living room look and use.
Easy DIY Living Room Decor
Is your living-room rotting since you think don't have time to snappy it up? Well, reconsider it, If you have a day– and a decorating dream– you currently have powerful require to bring that room back to life with among these easy DIY living room decoration concepts.
Bamboo Plate Wall Decor
Not all DIY living room wall decor use a higher level of crafting skill. Sometimes we can make easy and simple wall decor. The bamboo plate is one of easy DIY living room decor, and it only uses simple materials. That's why it will be possible to make; however, you are a beginner on DIY.
Supplies:
Bamboo plate
Spray paint
Painters tape
First, make the pattern by using the painters' tape. It applies to which part the bamboo plate will be painting.
After that, open the tape, and you use nails to stick it on your living wall. Create a personalized pattern from you to make your living room look unique and original.
Wood Arrow Sign
Another simple DIY wall decor. This wood arrow decor only uses simple materials; the materials are easy to find in our daily life. The supplies are a wooden arrow, acrylic paint, painters tape, sponge brush. How to build it?
It's very easy to create it, first change the color of wood arrow became black color by using acrylic paint. Then, use the painters' tape to make a pattern or stripes. Use the gold color to make it look contrast and beautiful.
Painting of "US"
Painting of "US" is one of the madeinaday.com masterpiece for living room wall decor. This is very simple to make, you can but the frames on amazon or other place. Also, the other materials are very easy to find.
Supplies:
Photo frame
Black and White sheets of card stock
Cutter and mat cutter
Silhouette of "US"
Glue
To see full steps of making this DIY painting of "US" you can visit here.
Natural Rock Decor
Did you didn't have skill in crafting? But you want to make a DIY decor. Make this easy DIY living room decor by using natural things. It will make your living room look fresh and airy.
Supplies:
Frame
Natural stone
Paint
Super glue
First, change the color frame to a classic style. Then, embed the natural stone to the frame by using super glue. Covered all frame with the rocks, after dried you can use it. Moreover, you can apply this trick to your vase too. Just explore your creativity on making a DIY decor.
DIY Apartment Decorating On a Budget
Moved into a new apartment? Or maybe you want to upgrade the look of your current residence. Many people think it's hard to do when you get on a budget. Well, that's why you must know about this DIY project. It could surprise you. Even a beginner can obtain excellent results with plenty of available jobs. Let's check the best DIY decoration for your apartment.
Small Ceramic Desk
Try to make this DIY desk for your apartment. Mostly, the apartment only has a small space. To make this DIY desk for your living room will be worth it.
Supplies:
Marble board
Hairpin legs
Spray paint
Liquid nails glue
First, spray the hairpin legs with the spray paint. You can use gold spray paint to make it look glamour and expensive. Then, stick the hairpin leg and marble board by using the super liquid nails glue. Wait until dry correctly in one or two hours.
DIY Pot Plants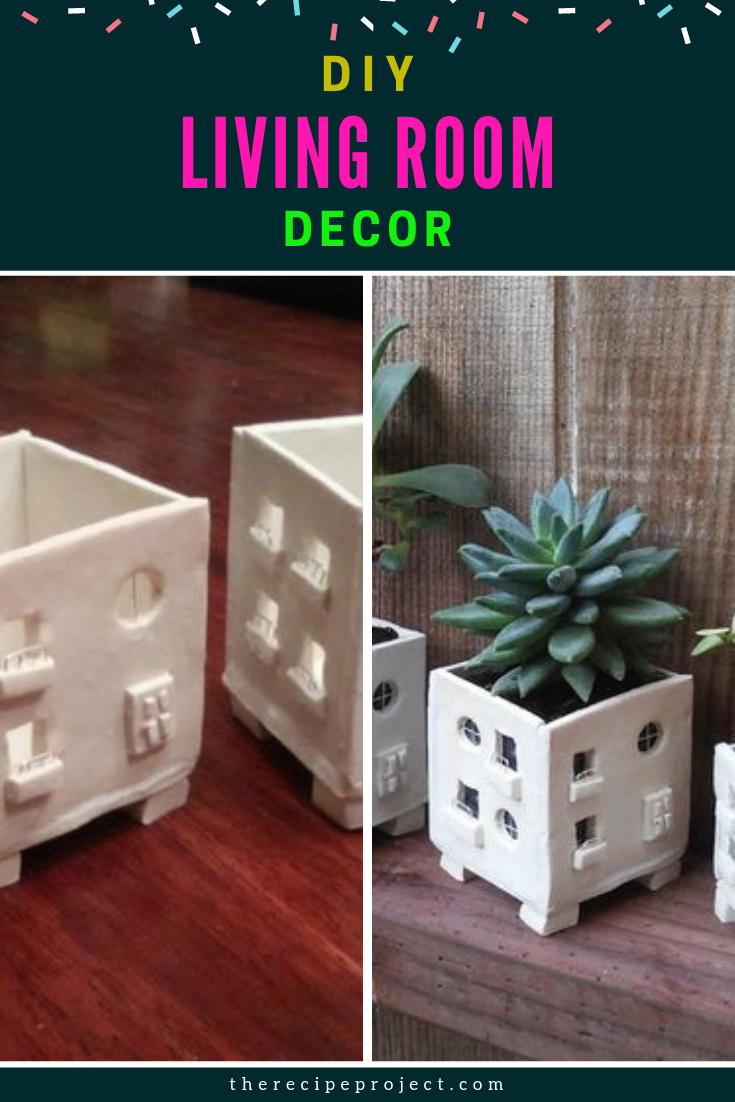 Mostly every apartment only has a small space. So, it makes us hard to decor it. Also, the living room in our apartment is joined with another room. It makes us must think harder to decorate the living room. With this DIY living room decor will solve that problem. 
This decor is very easy to make, and also the supplies are very easy to find. You can buy it on Amazon, IKEA, or another same store. This DIY decor will make your apartment fresh and natural. Moreover, the size of this decor is small, so it can't consume a lot of area in your apartment. Visit here to see full tutorial and supplies you need. 
DIY Living Room Decor Ideas
Your living room is the focal point of your home as well as it is among the very first areas that your guests will see when they come to your home. There's nothing even more embarrassing than a living room that resembles it's stuck in the last century. But, on the other hand, acquiring new decoration can be more expensive. If you're in the mood for crafting projects, take a look at these living room ideas that are perfect for you.
Classic Lamp Design
You are like to take a moment on your camera. It makes you have a lot of photo on your home. But you don't know how to display it uniquely. Maybe this DIY living room decor can be a unique way for you to view your photo collage.
Supplies:
Laser Vellum Paper
A table lamp
Scotch tape
Scissors
Printer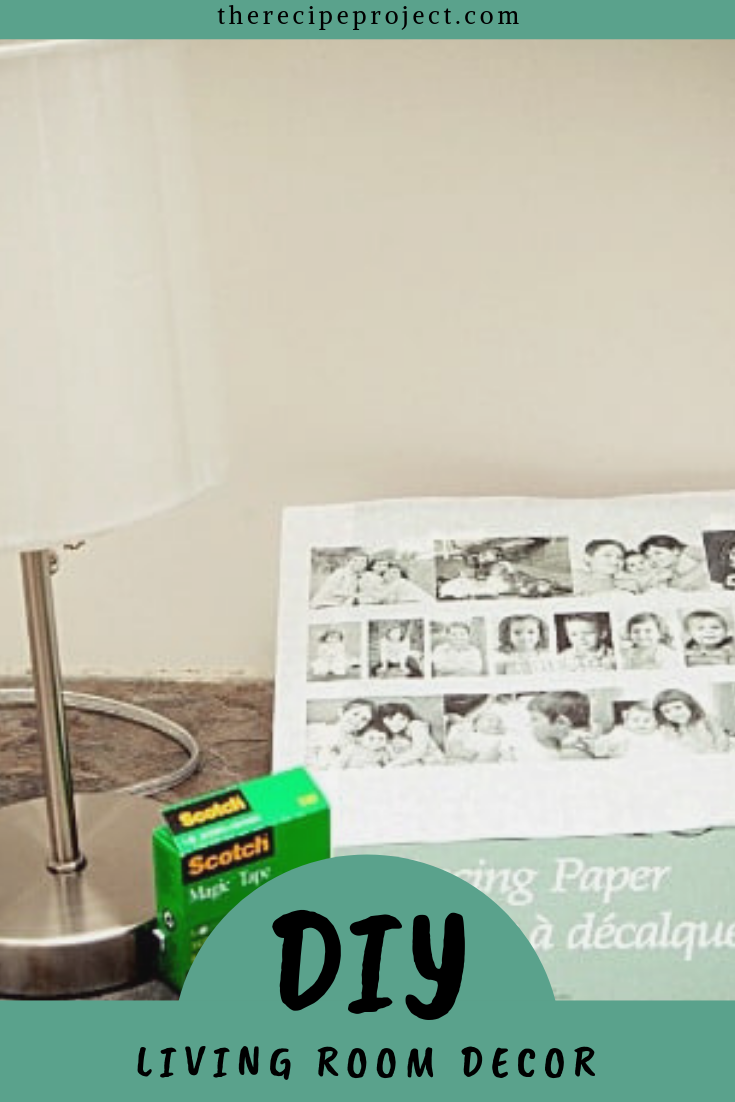 First, collect all the supplies you need. Then, measure the size of the photos you want to apply on the table lamp. It will better if you change the color of the photo to black and white, you use the software on your computer or change the printer print setting.
Second, start to cut the photo after you print it. You must give an inch overlap paper. To make it you easy to stick the tape. Also, it makes you easy to embed the laser paper on your table lamp.
After every step is done, your beautiful photo collage is beautifully displayed on your living. Also, it might your quest eyes stunned to see this creative and unique photos college show.
Hidden Storage Desk
Make your living room space entirely on the use of space is a big problem. Because sometimes we add things or furniture is consume a big space in our living room. Usually, we add a big sofa, table, storage, home theater, etc., it makes our living look tight and crowded. Maybe, you can use this DIY living room hidden table.
Jenna blogIt will save your space and use the unused space became a gold area. Also, you can save your money to buy other things you need. This hidden table is beneficial, and you can put other stuff on there. You can put your living decor, plants, book, etc. on there. Let's visit Jenna blog to full steps to make it and the materials we need.
Delightful Wood Crate Desk
The living room became the first place that seen on your home. So, it's essential to decor your living room. But, your big problem is the budget, use this DIY living room table will be the best option for you. The design of this table is beautiful to put on your living room, it bringing the rustic feeling when you and your quest see it. Moreover, this table is very cheap on the budget.
Supplies you need:
4 wood crates
1 piece plywood
Wood stain paint
Paint brush or foam
Caster wheels
Wood screws
Wood sander
L brackets
Start to paint the crates with wood stain paint. It makes the rustic color perfectly show and make the boxes durable. Then, screws it to combine with the caster wheels. It makes this table movable.
Then, combine all four crates with being one beautiful table by using the screws and L brackets. Use the plywood as the bottom place of the table. Last, put a plant in the middle the table to make it look beautiful.
Family Photo Collage
Change your old door became a lovely photo collage. It can be the best DIY living room decor because it is showing the moment of your life. So it makes you and your quest remember all moment all ready you had.
Supplies:
Old door (It's possible for you to buy new door)
Tape
Paper
Glue
Photos of your family
First, start to cover it by paper and tape. After all, glass is covered, begin to put the glue on there.
Then, you can put your photos on there. You can start to put the picture of the first time you meet your husband or wife until you have a child. It will tell a story of your life to your quest.
Conclusion
Decor your living with good stuff is essential, but it will make you spend a lot of money on it. To resolve that problem, you created your creation on the decoration of the living room. DIY ideas will make your living room look fresh and original.