DIY Bathroom Ideas. The bathroom may not be the best option for your next social gathering, but in any circumstances, it gets a variety of visitors– and also for that reason, it's worth paying attention to design and decoration of your bathroom. Consider also that bathroom upgrades can have a significant return on investment. The good news is, you don't need to spend much money or big effort to change your bathroom for the better look.
With DIY, you don't require to buy every little thing in your bathroom to look amazing. You can use DIY projects, big and small, to truly make your bathroom your own. Whether it's, you can use wood, jar, plank, crate, etc. as materials to support your DIY bathroom project. Also, there are lots of ideas around on how to utilize your creative thinking and your crafting power.
Related Topic: Best DIY Living Room Decoration Ideas
DIY Bathroom Storage Ideas
Bathrooms are a few of the small and busiest rooms in our home, so it will make them easy to get messy and disorganized. When you're trying to obtain you and your family all set in the morning, that mess can genuinely make your day off to a rough start. Fortunately, it doesn't need for a pricey remodel or brand new fixtures to take back your beautiful bathroom. Your bathroom only needs a few DIY storage ideas to make it look cleaner and well organized.
Rustic Wooden Crate Storage
Crate always be the best material for a DIY project. You can transform crates became a place to put something, or maybe become a chair or table. Crates are easy to craft; you didn't need powerful skill to make it. Like this wooden crate, transforming the crates became useful storage in your bathroom. You can put bath equipment on there.
Materials:
Crates
Wood stain
Sandpaper
Brush
Screw
Drill machine
Piece of plywood
Casters
After you collect all materials, first start to make the crates soft by using sandpaper. You can use durable sandpaper and smooth sandpaper to have maximal subtle crates. Then, begin to paint the crates with the wood stain paint. In this case, I use grey and cognac color. Which is this color is terrific when applying to wood.
Second, start to combine the crates by using the screws on every part of the crates. Then, you can begin to apply the roller to this crate storage. Furthermore, before you install the casters, adding the plywood first under the crate. After that, plywood perfectly combines the crates, and you can start to add the casters. Casters will make it easy to move this fantastic crate storage. Also, this DIY bathroom storage is suitable for small space bathroom.
Creative Wall Basket Storage
You want to have a simple also on a budget of DIY storage on your bathroom. Try this DIY basket storage will be the perfect option for you. This basket storage is straightforward to make, and the materials are easy to find. You can buy the materials on Amazon, Walmart, IKEA, or another shopping place.
Materials you need:
Baskets
Towel bar
Craft ribbon
Sandpaper (optional)
Paint
Pencil
Measuring tape
Drill
Screw driver
To see the full tutorial you can visit here.
Nail Polish Shelf Storage
You have a private bathroom in your room, so make this DIY nail polish bathroom project is very recommended for you. This shelf storage will make you easy to find your nail polish and make it look more organized. The materials of this storage are easy to find, and also, you didn't need significant power on crafting to make this storage appear.
Supplies:
Boards
Plank wood
Pains
Nail
Hammer
Paint
Brush paint
First, start to sketch your shelf model. Use your crafting skills to make it. This shelf nails storage is easy to make; you can use nail and hammer to combine the wood. After that, you can start to paint the shelf. Choose whatever color you like, you can choose green, blue, yellow, magenta, or another color which is lovely to see.
Low Budget Metal Basket Storage
Want to make simple and cheap DIY storage on your bathroom? But, you don't have skill in making bathroom storage. With this DIY storage ideas will make your bathroom have simple storage. The materials to make this storage is very easy to find. You can buy metal storage and nooks in an online store. So, you can keep your hairdryer on there.
Wall Crate Shower Storage
Another storage ideas for your farmhouse bathroom, use crates as the primary material and use your wall as the place to put it. Like this DIY bathroom storage design, use your wall as the place to hang it. So, it will make you able to put more bath tools and equipment.
Supplies:
Crates
Spray paint
Wood stain
Scrap paper
Tape
Large hanging strips
Level
First, choose the perfect schema for applying the crates. You can sketch it by using scrap paper and tape, after that you can start to put the crates on there. You can use large hanging strips to applying the crates. With large strips will make the crates stick firmly to the wall. Last, to make it beautiful to see, you can paint the crates with spray paint and wood stain to make lifelong.
Custom Storage Shelving
Sometimes while we are on the toilet, our toilet paper became essential things. We must prepare the place for the equipment or tools of our bathroom and toilet. This shelving storage became the perfect ideas, and this DIY storage is easy to make. Also, the materials to make it is very easy to find — Lets's check the tutorials to make this shelving storage here.
DIY Bathroom Vanity Ideas
A bathroom vanity isn't precisely a complicated piece of furniture so you might safely assume that you may be able to make it by yourself. The simplest option would be to repurpose an existing furniture piece and even something completely different, not meant to be used in this way at all. Take a look at some DIY bathroom vanity ideas and design, and maybe you'll be inspired to begin your DIY vanity project.
Wooden Rustic Vanity
Wooden is the best materials to do a DIY project. Also, wood is easy to transform became storage, cabinets, shelving, or vanity. Then, the natural elements on our bathroom also support fresh and green atmosphere. This wood vanity is one of the perfect examples. How to make it? You can visit this site.
Old Wall Cabinet Vanity
Find old cabinet on your warehouse, and you don't know to make it useful. This DIY vanity idea will bring fresh design for you. Also it will bring a rustic feeling on your bathroom. It will become helpful things in your bathroom. Also, the budget you need isn't huge. First, you must collect other materials, like a sink (you can use chopper sink), faucet, plumbing pipe, paint, and crafting tools.
Then, you can start to make a hole. Size of the hole must suit to the sink. After that, you can begin to paint it, can decorate it with wood stain or other colors.
Then, you can start to install the plumbing pipe, faucet, and the sink. After all, things are done, you can use the vanity. It will make your bathroom have a unique atmosphere. Thanks to threescoopsoflove.blogspot.com, who brought this idea come to us.
Country Wooden Vanity
Make a small vanity on your bathroom, or your bathroom quest is a perfectly good idea. With small vanity didn't use huge space on your bathroom. It makes you will be able to put another thing in there. Also, wooden always give a good effect on our feeling while seeing it. You can visit here to see the full tutorials and supplies you need to make it.
DIY Bathroom Decorating Ideas
You need some ideas to update your bathroom view? Whether you are choosing a rustic, classic look or something more smooth and modern, you absolutely can do a DIY decoration to add to your bathroom. From mirror to shelf or cool wall art, this DIY bathroom decor ideas is very easy tutorials, and almost the decor is on a budget.
Unique Polka-dot Wall Art
Decorate your bathroom are not necessary, but in this era bathroom not only for yourself or family. But, your friend and guest also visit your bathroom sometimes. So, decorate your bathroom can be an essential part for you to make. The DIY decorating project will be the best option for you, and it is low budget and easy to make. Like this wall art, only need acrylic paint, canvas, circular pounces, hanging tools (hammer, nails, wire, staples).
Cute Shell Candles
A shell can be best decorate for your bathroom. But, you must transform those shells into useful things on your bathroom. These shells can change to beautiful candles. You need to find shells on the beach, and buy the wicks and wax on the store. Then, you can start to make it.
First, cleaning the shell. After that, melt the wax and stick the wicks to the shell. You can mix the wax with relaxing oil. Then, spill the wax to the shell. Wait until the wax dried, last you can use the candles as a relaxing atmosphere on your bathroom.
Bling Wall Art
Fell confused to decorate your bathroom wall. Also, you want to make a simple wall decor for your bathroom, which does don't need high craftsman skill. I think you must try to make this DIY bathroom decor project on a budget.
Supplies you need is glue, frame, bling, canvas, weir, and nail.
First, you can sketch the pattern of art. Then, start to apply the bling to the canvas, you can use glue to make it stick strongly. After all, bling is perfectly attached to the canvas, applying the frame. Last, put the frame on your bathroom wall, you can using nooks, nails, and weir.
Beautiful Tiled Mirror
Have a little skill in making something. You can try to make this DIY mirror project. This DIY bathroom mirror frame ideas is stunning for your bathroom. Also, a unique view of the tile frame makes this DIY mirror project make your bathroom look very well on decorating.
Then, you can the supplies on the store or buy it on the online store. Supplies you need are a large piece of thin oak, grayish ceramic, wood glue, hammer, cutter, and sanded grout.
You can visit the site to see the full tutorials and steps to make this DIY mirror.
Floating Wood Shelves
Have a empty space on your bathroom wall. This DIY idea can make your empty wall became more efficient. Making floating shelves bathroom storage by using wood, with this DIY project will give your new storage and also as a wall decor on your bathroom.
Supplies:
Large sanding tool
Sandpaper
Wood stain
Corner braces
Drywall anchor
Wood screws
Wood
Paint
Visit mommysuite to see the full tutorial and steps to make this shelves on your bathroom wall.
DIY Bathroom Remodel Ideas
Do you need to hire a professional to remodel your bathroom? That depends on your skills, your confidence, your time, and your budget. If you're savvy with laying tile and also less complicated installments (do adhesive, for example), you may choose to take on sections of yourself. If you're considering completing some of your remodel bathroom ideas on your own, right here are some ideas you may come comfortably to mastering.
Air-stone Bathtub Makeover
Have skill on adhesive plaster, make this DIY project is the best option for your bathroom. You will transform your monotonous bathtub became a beautiful and fresh bathtub.
Supplies you need:
Cement
Air-stone
Caulk
Spackle
Saw machine (if need it)
Hammer
You can start to adhesive the air-stone, then attached it to your bathtub. Use your imagination to make a unique look with the pattern of air-stone.
After you covered all bathtub by air-stone, you can go to the next step. Use caulk and Spackle to the corner of the tub. It will make it look nice.
After all covered entirely, wait until their dried. Then, you can use your bathroom, especially your beautiful bathtub.
DIY Vanity Dresser
Want to make a cheap bathroom vanity ideas on a budget? You can try this DIY project, change a dresser became a vanity for your bathroom is possible to do moreover if you have enough skill to make it by yourself. This DIY vanity will be a beautiful thing on your bathroom.
Materials:
Dresser
Sink
Faucet
Jigsaw
Sandpaper
Paint or stain
Screw and drill
Paint brush
Latex caulk
Water Based wax
All ready to collect all materials, you can start to build this beautiful vanity. Visit the site to see the full tutorial and steps to make it.
Rustic Wall Plank
You can change your bathroom wall became a rustic style. Use wood plank can be the primary materials. Also, you nee craftsman skill to make it happen. You can ask a professional or your friend because this design mostly needs a high power of crafting. Remodel your bathroom wall with plank can be dangerous if you didn't use perfect guide. To see the full step, tutorials, and the materials you need, you can visit this site.
DIY Small Bathroom Ideas
If you have a small bathroom, after that you understand precisely how difficult it is to make the best – difficult, but not impossible. The good news is that you can enhance the value, the comfort as well as the livability of your home with some minor bathroom enhancements that require a minimum amount, and here you will undoubtedly see DIY small bathroom ideas that you can try!
Easy Transform Mason Jar
Have you used mason jar on your home? But you don't know how to make it became useful things. Check this DIY mason jar storage for your bathroom. This storage is ideally suited for your small bathroom because the jar only uses small space on your vanity. But, the effect of this DIY jar will make your bath equipment well organized. Also it will be effect to the look of your bathroom art.
Supplies:
Mason jars
Aerosol spray
Mason jar lid and pump
Mason frog lid
Paint brush
Sandpaper
First, paint all the mason jar. After that, use sandpaper to make the text on those mason jar appear. Then, use aerosol paint to make the color durable.
Last, you can start to install the mason jar lid and pump and mason lid frog. After all, things are done, you can put in your bathroom. It will become the storage also as a decor on your bathroom vanity.
Flying Mason Jar
Make storage also became the wall decoration for your bathroom is the best decision. You can choose this mason jar idea. This DIY idea will make your wall useful and nice to look, and you can put the flower in the mason jar.
Supplies:
Mason jars
Hose clamps
Wood
Wood stain
Picture hangers
Hammer
Rag
Drill
Screws
Brush foam
First, covered the wood with wood stain. Wait until it dried, then you can start to add the mason jar on the wood. It will better for you to wipe the wood first.
Second, you can start to install the hose clamp on the wood board after you install all the hose clamps for all mason jar. Third, hanging the wood to your bathroom wall. After the wood board correctly attached to the wall, you can add the mason jar to the hose clamp. Last, you can use it as storage and decoration.
DIY Ladder Decoration
Have an old ladder on your warehouse? And you don't know how to transform it became a useful thing. Let's try this DIY ladder idea; it will become decor as well as a storage for your bathroom. This decor is effortless to make. You didn't need high skill in crafting to make it right. You can visit this site to check the full tutorial and materials you need.
DIY Bathroom Ideas On a Budget
We don't usually think about the bathroom as being elegant, but that does not indicate they can't or shouldn't be beautiful and also charming. This idea is among those times when the little things matter, and that's what exactly we're going to focus. Prepare to be bombarded with awesome DIY bathroom ideas on a budget, each meant to improve the bathroom without breaking your bank account.
DIY Shower Curtain
Shower curtain on your bathroom is one of the essential things. Because the view of the curtain will bring a new spirit in the morning, also we can use our shower curtain as the motivational thing to begin our morning. Like this DIY shower curtain, use word statement to ensure our motivation in the morning. Also, it is a piece of cake to make it, and you didn't need expert skill in crafting.
Supplies:
Cotton shower curtain
Acrylic paint
Freezer paper
Scissors
Paint brush
Straight pins
First, print the statement you want. After that, you can start to make a hole on the word. It will become a mold for you to coloring the statement.
Then, you can color the word with the color you like. To stick the paper to the curtain, you can use straight pins. It will make you easy to painting it, and it will make the paper not easy to move. Last, wait until it dried perfectly, and install the curtain shower on your bathroom.
Recycled Rug
Have a lot of used t-shirt on your dresser. You can transform it became useful things for your bathroom. Like, change it became a recycled rug. Also, it is a low budget DIY project. You only need little skill in sewing.
Materials:
T-shirt
Hand towel
Ruler
Taylor chalk
Cutter
Cutter mat
Sewing machine
Thread
Scissors
First, make the pattern on your hand towel. Then, cut your t-shirt on the size you want.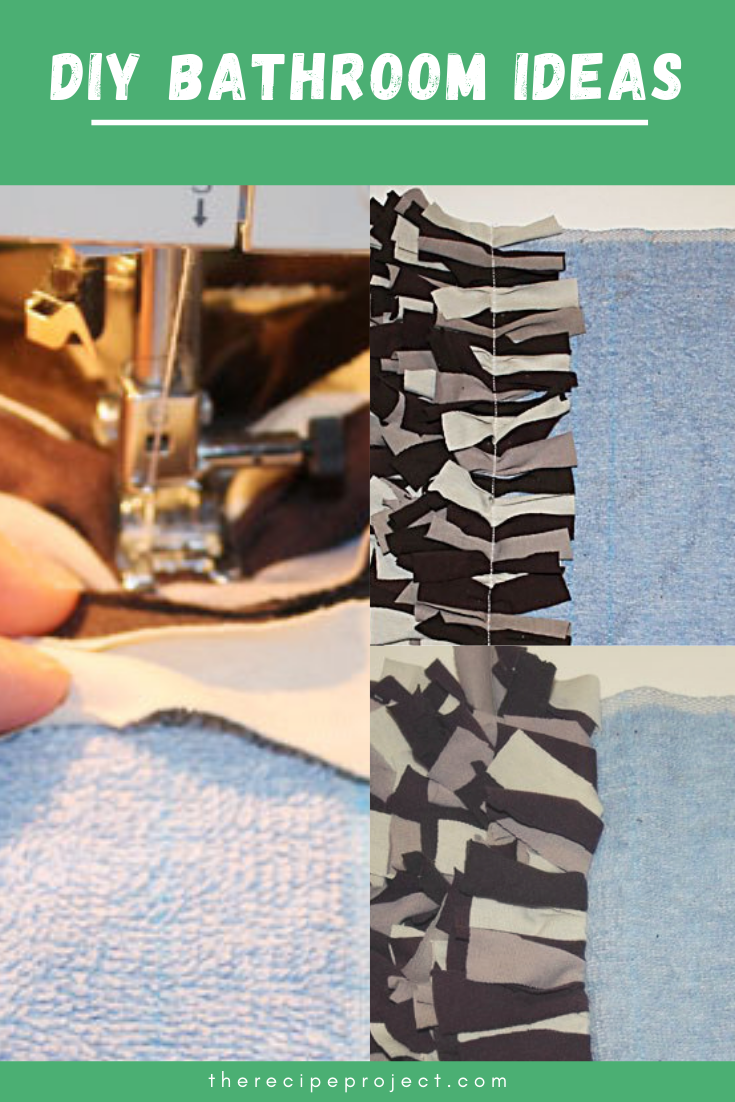 Second, you can start sewing the t-shirt to the towel by using your sewing machine. Just see the pattern to make the best rug for the bathroom. Or, maybe you want to follow this favorite pattern. Last, after already done, you can use the recycled rug on your bathroom.
Rope Frame Mirror
Almost every bathroom in our home has a mirror. Sometimes we forget, a mirror is one of the possible things you can transform to be a bathroom decoration. With this DIY bathroom mirror ideas, you can use rope to decor the mirror; it's easy to make and not need many materials. You need rope, mirror with frame, glue (you can use a glue gun).
You need to cover all around the frame by using the rope. To make it stick firmly, you can use the superglue, wood glue, glue gun, or another glue you have on a home. This DIY idea is perfectly cheap for you who have a low budget.
Modern Rope Trash Can
Trash always be essential things on our bathroom. So, to make it look more beautiful view. You can use this idea; this idea only spends a low budget to make it. You only need rope and glue, and also it is easy to make.
Read Also: Galley Kitchen Remodel Ideas
Conclusion
Creating things by yourself is very interesting; also, it presents the specialty of it. DIY bathroom ideas to support your bathroom and make you can save the amount of money. So you can spend it on another thing, like buy other stuff for your kitchen appliances, bedroom accessories, or furniture in the living room.