DIY Desk Ideas. Desks come in handy to have around your house, whether you're using them for computer work or just for the occasional create something. However, there's no way around it work desks can be expensive. So why don't you make your own desk? It will cost less, and also you can customize the dimension to fit your room.

These DIY desk ideas will undoubtedly give you everything you need to effectively develop a desk for your workplace or any other room in your home. In making a DIY desk can be started from a beginner to an intermediate woodworking job depending upon what plan you select to deal with. Whichever one you choose, you'll find building structure instructions, diagrams, and also images to assist you in the process.
Read Also: Kitchen Corner Desk Ideas
DIY Desk Organization Ideas
Before we jump in making a DIY desk for your home, office, or other areas you want. Lets we check a trick on how to make your desk beautiful to look and well organized. Sometimes, your messy work desk maybe will make your creative plans gone. These simple DIY desk organization ideas, as well as tricks for your home office, will assist you to clean it.
Powerful Pipe Organizer
Making a desk organizer with simple materials will polish your crafting skill. You can use pipe and plank as materials to make a simple organizer. Then, to make it look beautiful, you can use color to make it happen. It will become a fun DIY project for your work desk, see these pictures below to guide you.
Materials:
Paint (Gold and Blue color)
PVC Pipe
Plank Board Wood
Miter Saw
Vinyl, Fabric and Plastic Glue
Pencil
Sandpaper
Utility Brush
Artist Paint Brush
Tape measure
First, cut the plank board. Measure how long you need, and decided how much you need. Moreover, if you need long organizer desk, you can reduce the length of the plank board.
After you cut the plank board, colored the board with gold. You can change the color with another color you want. Then, measure how long the pipe you need.
After measure how long the pipe you need for your desk organizer. Cut it based on you want; also you can cut it based on how much you need. Maybe you need more than five pipes; you can add more.
After all, done, you can combine all things to be a beautiful organizer desk. Use your glue to fuse the pipe and plank board. You can see homedepot.com to get new ideas about a DIY desk.
Use Can for Organizer
DIY home organizer using abandoned things is a great idea. The primary purposes of DIY skill are too utilized in discarded items. Like this organizer desk, use a can and dried as the primary materials.
Materials:
Spray paint
Loaf-shaped pan
Soup can
Drill Machine
Sticky back
Screwdriver
Heavy-duty felt
Washers, grip clips, nuts, and bolts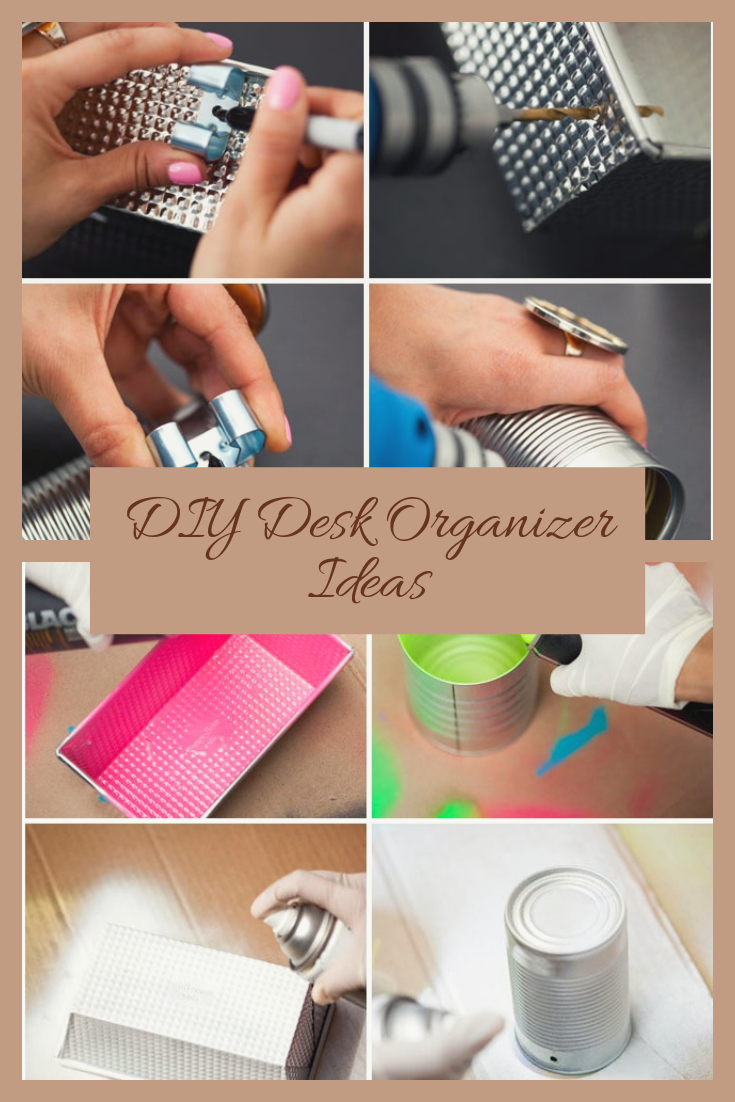 Use a power drill to hole the cans and loaf-shaped pan. After that, combine it with heavy-duty felt. Then, colored with primary white color, the color you want. We use a green and pink color to make it beautiful.
Furthermore, use a sticky back to make your desk still safe from scratched.
After all finish, you can plug it on your desk. Then, for example, you can use cans as a place for your pens. Loaf-shaped pan as a place for your plants, to make your room fresh.
Everything is done; you can enjoy your DIY desk organized. To see more information, you can check adorable-home.com.
Wooden Plank Desk Organizer
Have skill crafted-man, try to make this DIY desk organizer. You can transform a wooden plank became useful desk caddy. It can be the place for your tools and smartphone on the desk.
Materials:
Wooden plank
Ruler
Drill Press
Pen
Wooden Mallet
Danish Oil
Paint brush
Steel Wool
First, measure how many slots you need in this wooden plank organizer. After that, use a ruler and pen to make the size of the aperture.
Then, this part is the main things in making this desk organizer. Your crafted skill is tested in this part. Use a wooden press machine to make the slot. After that, spruce the slot with the wooden mallet.
After all done, cleaning the plank wood. Finally, you can brush the wood plank with danish oil as the last touch to make this desk organizer look classic. Thank you to www.ehow.com, who was bringing this DIY desk organizer became real.
Standing Wooden Desk Organizer
DIY standing wooden organizer can be the best solution for you, who was always losing your work tools. This desk organizer can help you to put things correctly and easy to find because you can put this desk organizer in front of you.
Materials:
Birch Plywood
Ruler
Pencil
Glue
Cutter
Paint
Brush Paint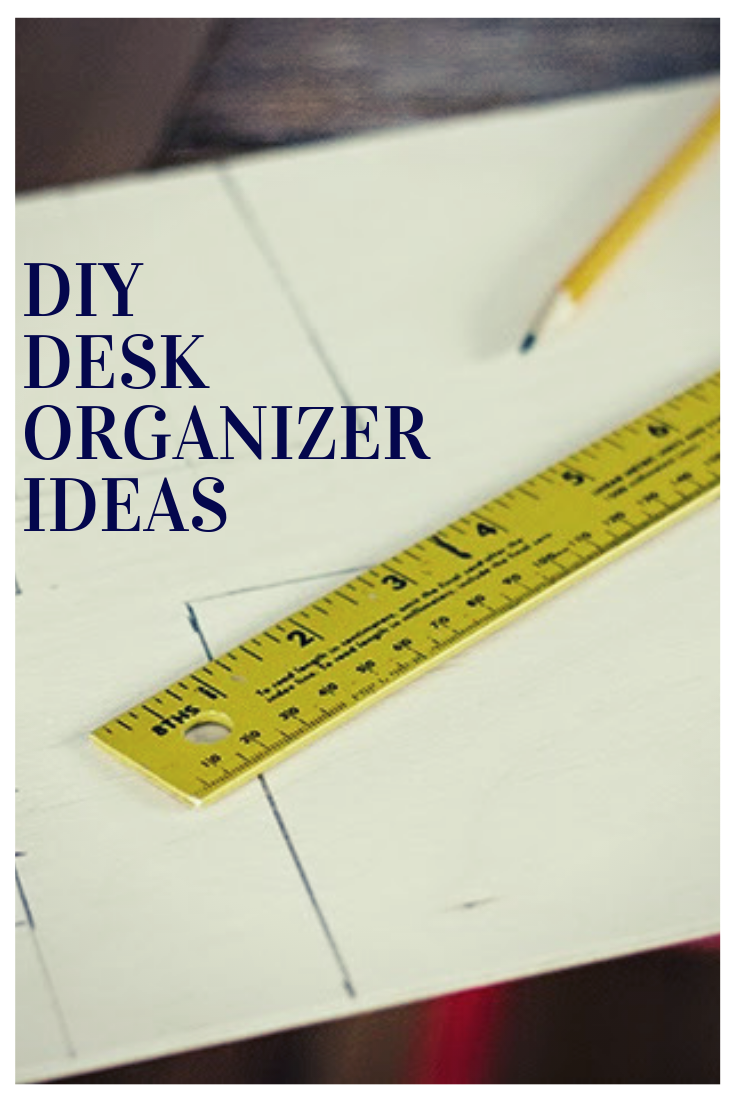 Buy birch plywood, because it is the primary materials on making this desk organizer. Desk organization with plywood make you easy to cut it. Measure how many pieces of plywood you need, then you can cut it with the cutter.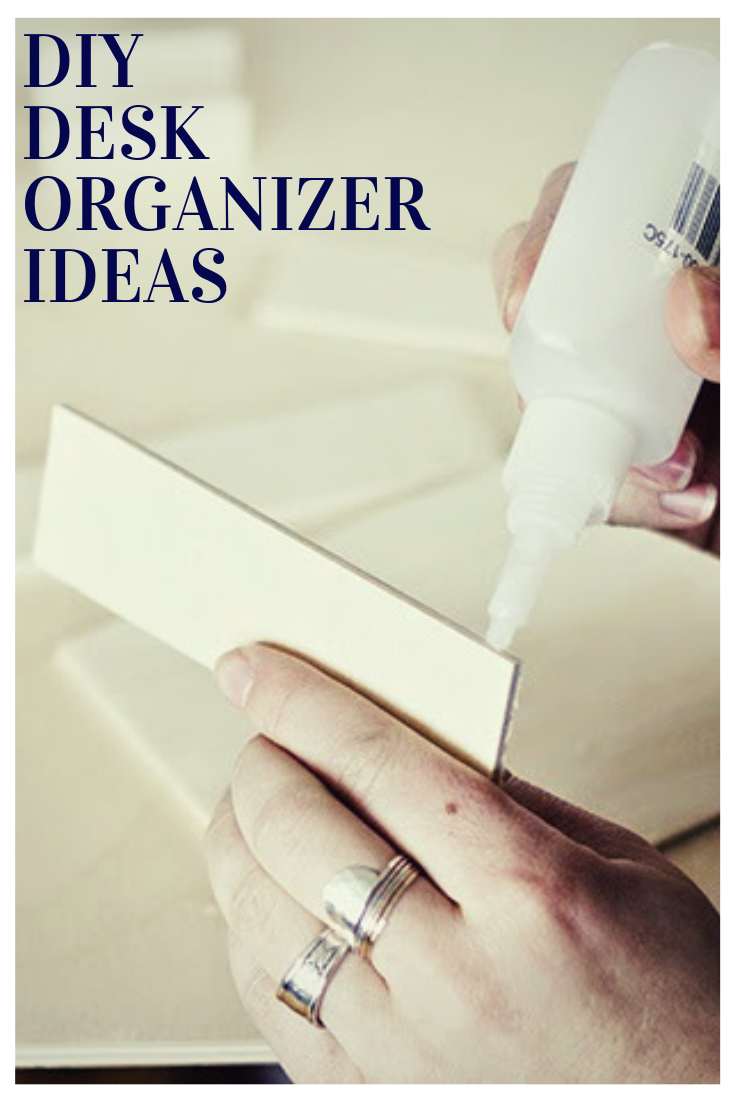 After cutting the plywood with different sizes, you can unite it with glue. Use strong glue to make this desk wood organizer long-lasting.
Then, to make it a beautiful view. You can color the plywood with black color. It will bring other tones from natural wooden color.
After all, pieces are combined, you can use it. Thankful to poppytalk.com to give us an idea in making a simple desk organization.
Corner Desk Organizer
Sometimes we hard an organizer on our corner desk. Commonly corner only has a little is to put other things. But, it can be solved with this DIY corner organizer. This corner organizer will use nook area ideally. Special thank's to thelovelydrawer.com to showing this beautiful corner desk organizer.
Materials:
Metal Plate Rack
Lite Plywood sheets
Knife handle
Pencil
Ruler
Paper
Glue gun
First, prepare all the materials on your crafting desk. After that, start to measure the size and length you want for your corner desk organizer.
Then, use metal plate rack as a measurement size of your corner desk.
After that, start to sketch it by using your pencil and ruler.
Start to cut it into pieces, based on your sketch. It will become a plywood plate.
After all, the plywood plat is ready. You start to combine it by using a glue gun. Combining all plats became one. Then, you can cover it by paper or fabric, based on what you were looking.
Cute DIY Organizer
Make a cute computer desk organizer to simple crafting tools, like your pen, brush, pencil, or scissors is an excellent idea. It makes you easy to find those small things. Also, to make it, you need beginner skill on crafted.
Materials:
Foam Board
Craft Knife
Ruler
Paint
Brush
Super Glue
Quick Grip
Pencil
Tape
Start to note the design of this simple desk organizer.
After that, start to measure the size you want. Like this example, only make a small size. Then, cut the foam board based on the size you want.
After you cut that foam board, combine all the pieces with the super glue. To make it stick with the perfect way, you can use quick grip.
Then, all the pieces are correctly attached. You can start coloring it. You can use whatever color you like.
Start to color with red or other colors you want; this example only uses the primary color to make it easy to look.
Purposes of using tape to prevent the color from combining, the tape is used to separate the colors you applied.
Finally, you can use this desk organizer after dried. Thank's to lovelyindeed.com because bringing us, awesome desk organizer.
See Also: Awesome Craft Room Decorating Ideas
DIY Corner Desk Ideas
A corner desk is needed in both homes as well as the workplace. Because it can make the best use of small space comes to be more useful. However, you need to beware when making this choice. If you've done a bit searching and also can't seem to locate a store-bought work desk that fits your needs, we're here to assist you in developing your DIY corner desk that fits your demands and also measurements correctly.
DIY Pink Corner Desk
If you are a creative person with gifted skill in crafting, try to make this cute corner desk, with soft pink color and pure-bond plywood. This desk is straightforward to make, but it's charming to use.
Materials:
Pure-bond Plywood
Hairpin legs
Screws
Insert nuts
Machine Screws
Gorilla Wood Glue
Brush
Drill
Power Drill
Sand paper
Clamps
Hammer
Pen/Pencil
After all, the materials collected, you can start to build it. Don't forget to care about safety first before starting it.
First, measure where you will make a hole, to tide the hairpin legs. It's imperative to choose the perfect range of breach to make your desk legs strong enough.
After you finish to make all the holes you need, start to unite the plywood to make it substantial and robust to use.
Then, pair the hairpin legs with plywood with screws. Don't forget to make the plywood soft by using the sandpaper.
Last, after all the parts are combining, so you can use this corner desk. Thank you very much for abeautifullmess.com to guide use on make this desk.
DIY Corner Computer Desk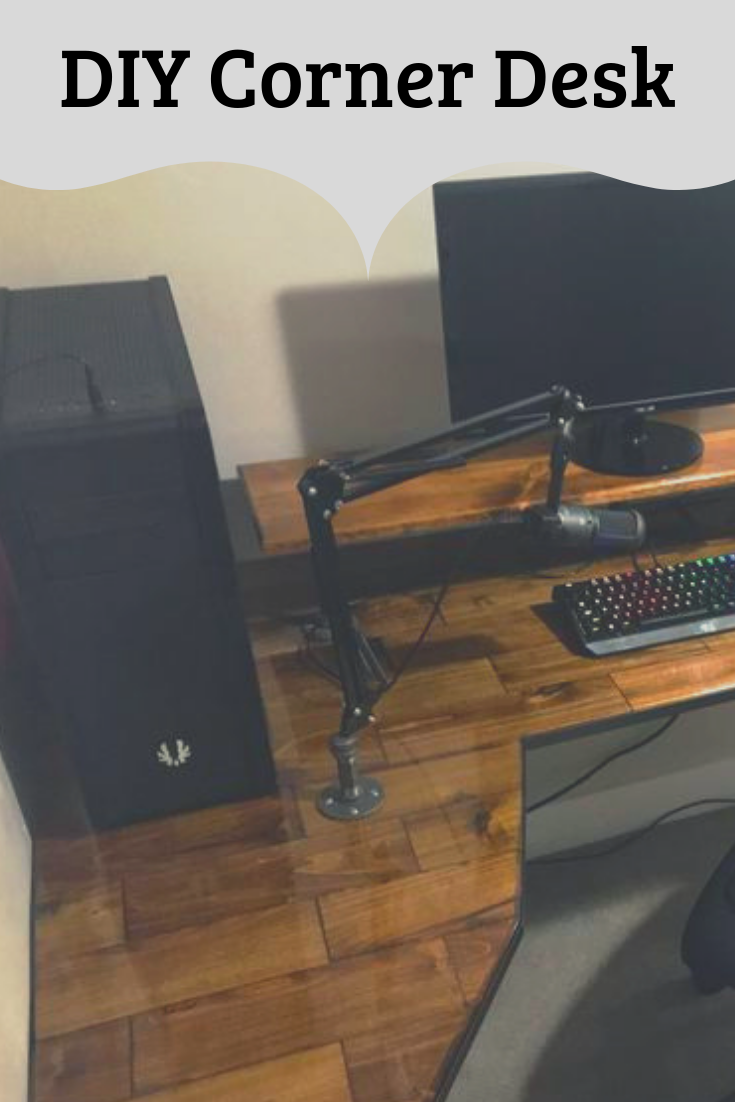 Make an excellent DIY desk is possible if you have a skill of a craftsman. This corner computer desk is making by a person who has a ton of creativity on crafting. But, it's still possible for you to follow it. Thank's to imgur.com, who share this creative corner desk.
Materials:
Fence Plank Wood
Strong glue wood
Sand paper
Wood filler
Clamps
Iron pipe
Aluminium
Rust-Oleum Spray Paint
Collect all old fence plank wood on your craft desk. Try to combine it with strong glue. Use more glue to make it perfectly unite all together.
Then, make a hole to install the iron pipe. It will make the second desk floating.
After all iron pipe and wood desk unite, spray it rush-oleum. It will make this corner desk live longer and can use it for along time.
Last, you can use it when it correctly dried. Place the desk on the corner of your room or home.
DIY Computer Desk Ideas
Why you need a DIY computer desk? When you intend to work from house, you will certainly always search for a unique, imaginative way to handle your workload. Establishing a comfy desk where you can work from can be reasonably useful and also it will undoubtedly be an excellent investment.
You can still get an excellent worth for your cash if you opt for a DIY computer work desk. The concept is to take your time as you search for, which is the very best financial investment for you. It will undoubtedly be a great concept to focus on the type of desk that you can use as well as which works for you.
DIY Wall Computer Desk
Make a simple computer desk to do your work at home. The desk perfectly blended with the wall; it makes this desk look floating. Also, the color is the same as the wall color, make it look awesome. Only use simple materials and minimum skills of crafting so you can make this computer desk correctly.
Materials:
Hook board
Shelf board
Square board
Glued desk board
Hooks
Wood putty
Caulk
Sand paper
Paint
Measuring tape
Hammer
Nails
Miter saw
Drill
Screws
Cut the square board with an edge you need, based on where you will install this wall desk.
After that, in measuring the place to put the desk by using tape. So, it makes you know the place to install the wood. You can use nails and screws to combine them.
Then, install all square board to the wall, after that combine it with the desk. Don't forget to apply the nooks as the place to put headphone.
Finally, you can paint the desk with the color you like. In this cased, abeautifulmess.com applying black color, because the color of the wall is black. It manipulates the view of the desk looks like floating.
Inside Computer Desk
Make a unique desk for your home desk is worth it. Because you will use it often, moreover if you do your work at home. This DIY hidden desk can be the best computer desk design. But, you must have a high level of craftsman to make it happen.
You can build this desk, or buy it in the market place. You can check imgur.com to know where is the place to buy it.
After that, use your skill on putting the components of PC. Just put it the right way, you can use guide book of PC installations.
Then, make a hole to put the fan, power cable, etc. It will support the performance of your PC.
After that, try to install all components became one based on the place you choose before
Don't forget to put the on-off button, finally; you can use it. Don't forget to the plugin on the main power.
DIY Kids Desk Ideas
Most kids have a ton of creativeness on their mind. Because of that, we must prepare everything's their need to express creativity. A desk is one of the important things, make desk to draw, paint, craft, and of course, study for our kids. Basically, building desk isn't that difficult, you just need some plans for the model that you want.
Related Topic: Best Kids Room Design
Cheerful Kids Desk
Make your children happy while crafting. One of the essential things is a desk; the desk will support their creativity in making something. It will make our children easy to explore more.
Materials:
L copper pipe
Cooper slip tee fitting
Cooper end caps
90 degree cooper
Pipe
Wood screws
Spray paint
Pipe cutter
Sand paper
Drill Machine
Collected all materials in one place, next you can start DIY times.
First, combine the pipe in using all coopers. Make sure it is strong enough.
First, use sandpaper to make the board soft, after that painting it with spray paint. A cheerful color can be the best color.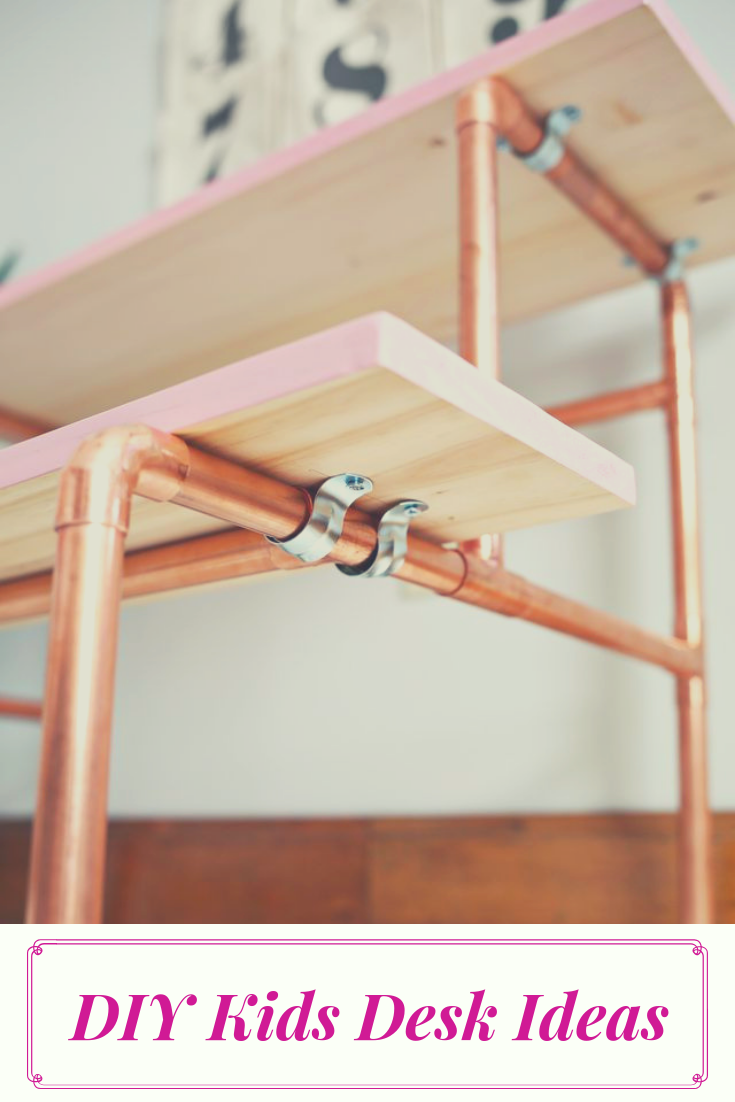 Then, you can applying the wooden board as the key of this desk.
Finally, your kid's desk is done, and it can be a beautiful desk for your beloved children.
DIY Door Desk
Transform your door/window became a useful thing is possible. You can transform it became lovely kids desk. Use your DIY skill to make it real.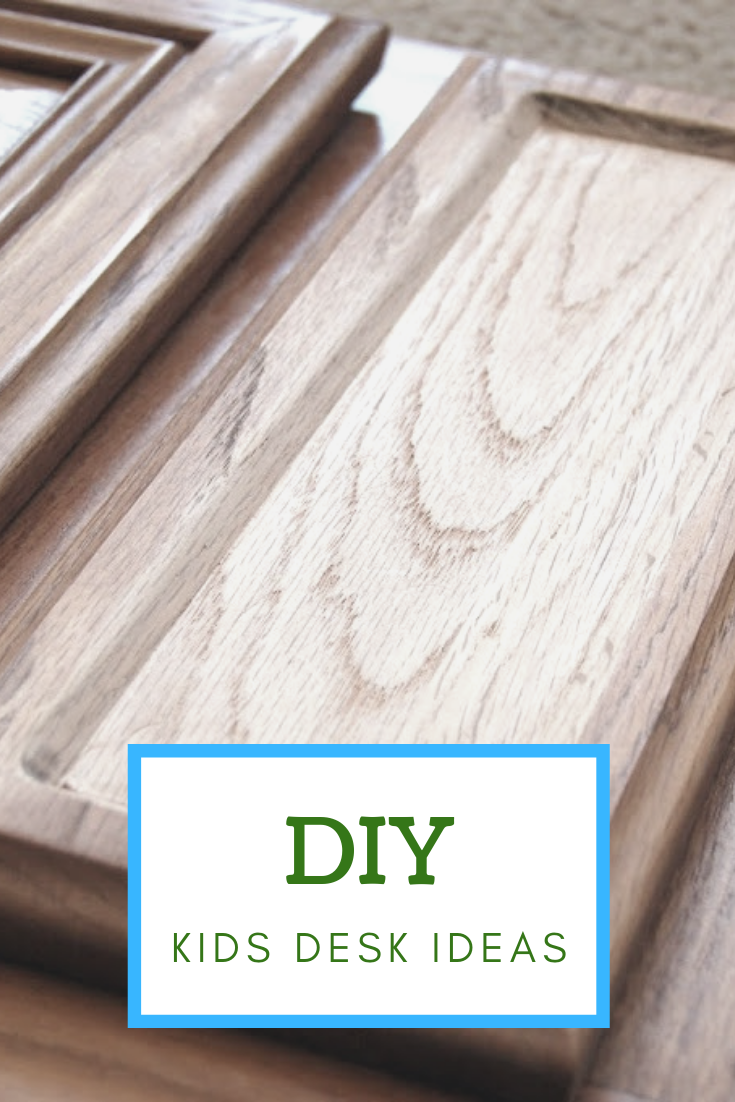 Choose whatever door materials you want, the best materials are wood because it was bringing natural atmosphere while we used it.
Then, choosing the best legs for it. Choose wooden materials too, to make it look beautiful toned.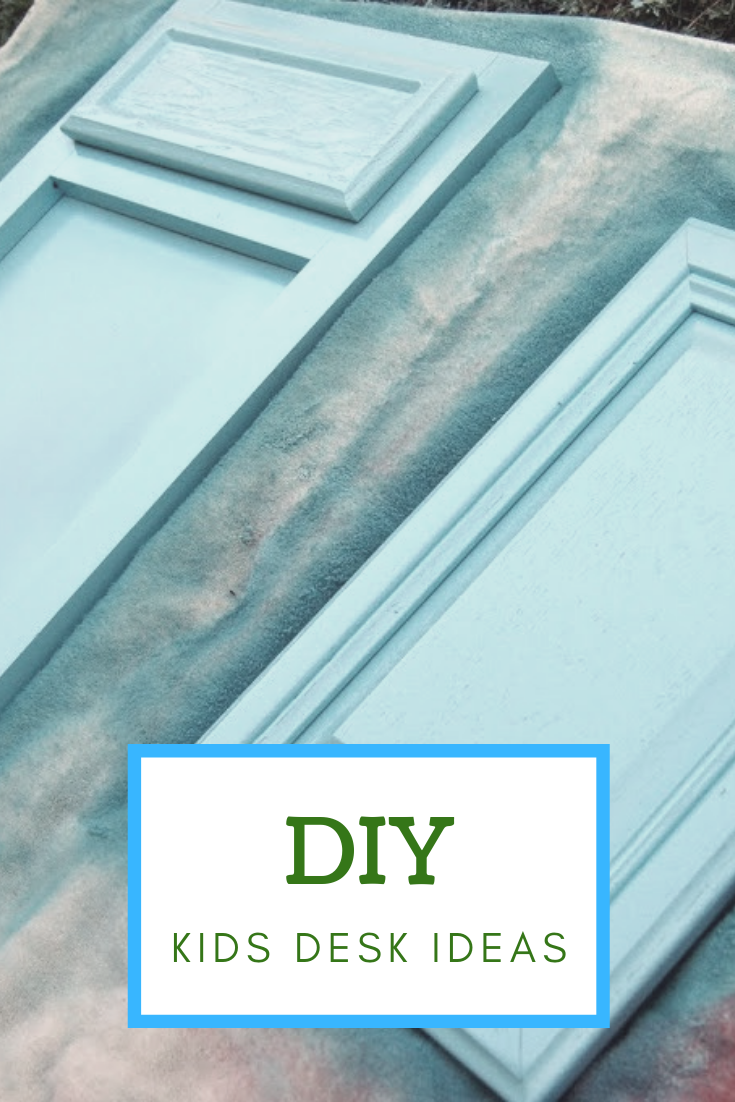 Colored it with spray paint, or using a spray machine to get the best color.
After that, you can install the legs with the desk.
Last, applying the hinged door. To make it can open and close, makes your children can put something in there.
DIY Home Office Desk Ideas
Change a spare room became an office can seem overwhelming. But with a small budget and some DIY skills, you can create something useful and beautiful. With this DIY desk, home office ideas will guide to create a perfect counter.
Materials:
Pocket Hole Jig
Circular Saw
Boards
Square wood
Screws
Screw driver
Plywood
Hinges
Paint
In building this home office desk, you must prepare what things you must need. Maybe, you must wear gloves and glasses, or something you need as work support.
After you collect all the materials, start to cut the square board in the size you want. Then, begin to make ranges for the table by using those square board and pocket hole jig.
Screw it, to make the ranges strong enough to use.
Then, build the desk legs, same as you create ranges for the desk. Use pocket hole jig to combine the square board.
After that, combine the desk and legs. It will make you easy to estimate the power of this desk.
Last, you can start painting the desk by using the same color as ours. Or, maybe you want another color, is based on your need. Thank's to averageinspired.com who help us to make this desk.
DIY Office Desk Ideas
Bringing a new style in your office will be great. It will give a unique atmosphere to your office. A desk is useful things in our office, we use it almost a whole workday. So, office desk can be our solution to change it, desk not became an expensive thing to change. Here are DIY office desk ideas, for your office, it is an inexpensive desk office, but it still looks fresh, unique, and useful.
Materials:
Two OSB Sub-floor Panels
Four long board
Interior stain-grade pine screen molding
Pencil
Measuring tape
Box of screw
Steel brads
Hammer
Pliers
Drill
Power screw
Power saw
Spade bit
Glue
Paint
Brush
Thank's to abeutifulmess.com, who give us guidance on making this beautiful office desk. To make this desk, first cut the OSB sub-floor panels based on your need. Also, cut the boards, base on length of your desk. Then, combine it with screws, make sure it blends very strongly.
After that, we continue to make the desk legs. Use boards to make the legs, cut the board based on desk tall you want. Then, make a hole by use spade bit, the tunnel used your electricity terminal, or for cables traffic, it is based on your office regulation.
Last, after the legs are perfectly combined desk, don't forget to paint the desk. You can pretend the natural color of the wood. Or, maybe you want to change to other colors, it is up to you.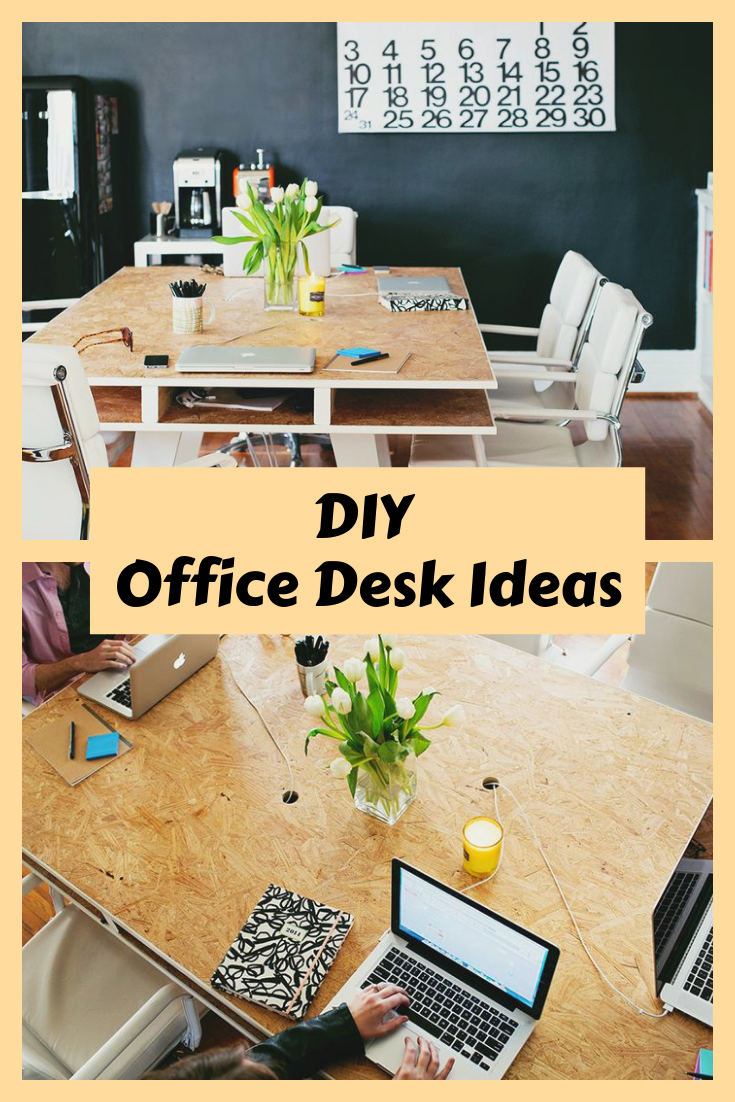 Finally, you can use that excellent desk for your office.
DIY Small Desk Ideas
Whether you moved your job from a workplace to the house or just need a place to web-surf, pay bills, or check e-mails, you will be a lot more productive with a properly designed office work space. But, you don't have space to add a home office, it won't be a big problem if you have a small desk. To supply your ideas, right here are some fantastic DIY small desk solutions to support your work.
Small desk to support your creativity in sewing, or maybe you are working as a tailor. This small sewing desk is perfect for you.
Materials:
Three small boards
Two small boards
Wood Glue
Spray paint
Clamps
Hairpin Legs
Electric Drill
Wood Screws
Sand paper
Paint
Paint brush
First, make sure you already measure the board's size and thickness. Then, you can unite all boards by using wood glue, use strong wood glue will nice. After that, using clamps to make it firmly unites.
Next job is, combine the hairpin legs to the desk. It is an easy part, use screws, and your electric drill. Don't forget to sketch it first, so it will make you comfortable in placing the legs.
It is done, and you can use it. You can paint this desk, or just to painting the legs. Or, you still want to maintain the natural color of those things. You are free to express you want.
DIY Desk Painting Ideas
Not every single person need a colorful desk, but most of us believe that color will wake up our creativity. With correct and match color for your desk, will make your work time enjoyable. However, to make it right probably isn't simple, so take a look a DIY desk painting ideas for yours.
Supplies:
Epoxy coating
Gloss paint
Painters tape
Tool to adjust the level of surface
Level
Sandpaper
Tool to spread epoxy
Brush
Paint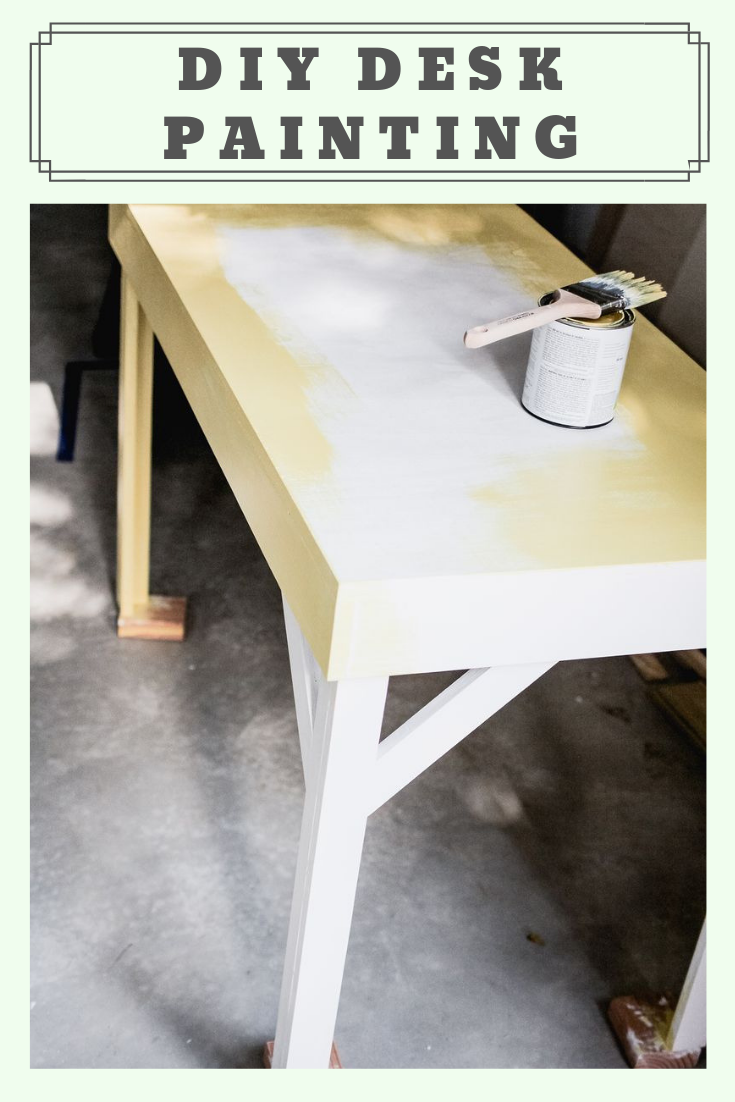 First, painting the desk with basic color, you can use white colors. That is a perfect color as a basic color.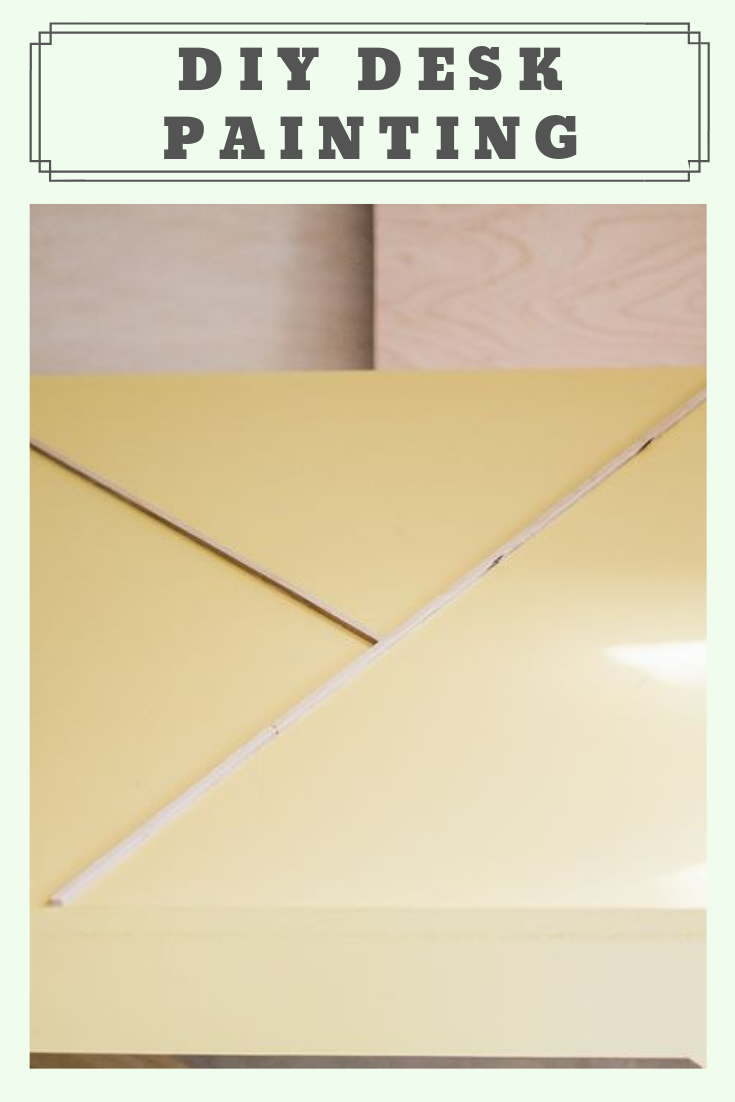 Second, you can use small wood or something else to separate the epoxy paint. It is used to prevent colors from combining.
Then, you can start painting the desk. Use epoxy coating is very simple, spill it to the desk. After that, you can use wood shims to make it same level.
Use the wood measure toll to check the level of it.
Next, spill another color epoxy coating. Same as previous, use wood shims to flatten perfectly.
For the drawer, you can use paint to painting it. Use the same color with the epoxy coating.
Finally, it's all done. You can use the desk, but make sure the epoxy coating and paint are perfectly dried.
Conclusion
DIY ideas will make you have a better experience in decoration. Also, the feeling of exclusive in your dining room, bedroom, or your kitchen room makes you happy to make it. Instead of you can spend less money, the DIY ideas will push you to show your craftsman skill. That's way created DIY desk ideas for your home is excellent things to do.