Kitchen desk ideas. In this era, the kitchen not only becomes a place for cooking. But, right now, the kitchen becomes the place which has a lot of purposes. The kitchen can be a place for the family to have a meal. Then, they can have a little conversation in there too. Also, the kitchen becomes a pretty place for a banquette. Your quest can stay in your kitchen and have sweat place to take a break. Otherwise, some of us bring our work to the kitchen. We also prepared a desk in our kitchen, to make us easy to finish it.
What is Kitchen Desk?
In this age, the kitchen desk became one of the suitable things in the kitchen. Most of the people prepared small, simple, and suitable counter in their kitchen. Then, what is the kitchen desk itself?. Kitchen desk is the best breakthrough idea — kitchen designed for someone who has much work to do. Or, maybe a successful businessperson with a lot of things must do. So, bringing the kitchen desk in our home is one of the smart choices. We can maximize our time; we can do that work, whether in our kitchen.
Read Also: Small Kitchen Sink Ideas 
Kitchen Desk Area Ideas:
1. Simple Kitchen Corner Desk
Have a useless space near your kitchen sink. It will better if your put desk and chair there. So, you will have a simple kitchen desk style in your kitchen. Add a bookcase is a good idea; it will make your kitchen look cozy.
Also, cabinet give more space for you to keep something important. Take the same color of kitchen desk with your kitchen is contemporary, but it makes look comfortable.
2. Office Nook Kitchen Desk
Did have a small space in your kitchen?. Or, maybe you have a little gap between your kitchen wall. Using that gap for add a simple kitchen desk will be nice. Adding a simple table was combining with wood shelf.
That design is suitable for your modern kitchen style. You can put a monitor in there, also the electricity. Then, to give it identic touch you can add the newest style of chair.
3. Computer Kitchen Desk
This kitchen desk style brings new uses of cabinets. You have space next to your kitchen area, and this style is a good idea to make. You can make a big cabinet to put all the thing you need.
Then, it close to your kitchen area, that might you take a snack or drink. While you do your work. Also, you will easier to work, whether someone is cooking in the kitchen.
4. Roomy Kitchen Writing Desk
Make a kitchen desk style besides your kitchen, and add banquette place. This design will appropriate for you. With a simple design of cabinets and counter. You can use those cabinets to put your kitchenware. Also, adding a corner seating above the window make it beautiful.
Then, using white color combining with a simple pattern of quest seating make your kitchen look elegant. Furthermore, the natural light was also bringing the comfortable feeling in your kitchen desk.
5. Small Kitchen Desk Area
This design is for someone who only has little space. You only can have a small table and cabinets. But, it will nice for you if you can customize it. Just put the thing you need in there. Like something that supports your work. Something such as bookcase, electricity, and office stationery.
Also, add a simple stool will very useful for your small space. You can slide it above your desk, and give more space in your kitchen.
6. Old Style Desk Decoration
Making a corner kitchen desk nice idea. In maximize your kitchen corner space by adding a kitchen desk. This kitchen desk decoration is suitable for your tradition kitchen style. With adding a chair, table, and racks from wood materials.
Then, to make it beautiful, you can add little pendant lighting. It will bring the traditional feeling, then make you relaxed while doing your work.
7. Pop-up Coffee Bar Desk
Want to make a kitchen desk in your standard kitchen design?. It can happen, with little creativity and the right places. Like this simple style, you can add a desk between your cabinets and wall. Just using simple tools to do that.
Make your kitchen desk under the window is good; it will bring natural light and nice view. To make it nice to look, you can add seating with pop up color. It will give a fresh look on your kitchen desk. Also, adding art on the wall will be the best idea.
8. Big Gap Kitchen Desk Hutch
This kitchen desk design is capable of your big kitchen space. If you have a big wall gap near your kitchen, try to make this kitchen desk style. You can add a cabinet with counter, also if you have enough money and space consider to add symmetric wall cabinets.
It will become a suitable kitchen desk for you to do your work or business. Using soft color will better, and have a natural light will make your brain fresh.
9. Brave Hidden Desk Organizer
This kitchen desk design will make you shocked. The vintage style of cabinets, counter, and stool are keeping amazing tools. This design is a superb use of cabinets space. It will save your electronic tolls from your children or other reason.
Also, it will make your kitchen desk look cozy and simple. This design is an appropriate humbled person. It's is possible for you to customize another space, base on your need.
10. Industrial Contemporary Style
This kitchen desk is a very standard design. With simple symmetric cabinets and counter. Adding a simple fabric chair, also use white color. But, it's a very suitable place to do your work.
Although, you don't need modern tools in doing your work and business. You need another place for you, to make your brain fresh. Also, you might be easy to take a snack or drink.
11. Limited Space
You have a small kitchen with an island. So, you only have limited space to upgrade your kitchen. It will be hard to adding kitchen desk design, but it's still can happen. With this kitchen desk, the design will solve that problem.
You need little space to add a table, chair, and bookcase. Moreover, to make it airy and fresh. Better for you to make that kitchen desk near the window. Then, a similar color will make your kitchen look cozy.
12. Small Desk
Are you need a kitchen desk?. But, your kitchen design is tough to put a desk. This kitchen desk design will capable to solve that problem. Only using a small desk and a stool.
It makes this kitchen desk only use tiny space. Then, add a board to keep what thing you must do. Also, make you easier to achieve your goal.
13. Modern Look Desk Furniture
Contemporary kitchen style is one of the best ideas in this age. Also, the big space of the kitchen is the favorite for some people. So, it will easy for you to add kitchen desk in your kitchen. This modern look kitchen desk is the upscale design.
This design is able for two people. In another word, this design is for you who have a lot of business and work to do. Or, maybe your family also use it too. This kitchen desk made for taking over all problem faced.
14. Plain Design
This kitchen desk is suitable for who like the simple design. This design made for you who didn't get busy. This kitchen desk only has a simple table under the window. The window gives a great view and airy your kitchen.
Also, the material of the chair and table are from wood, so it makes your kitchen look very natural. To support that fell, you can add a vase of flower to make your kitchen desk beautiful.
15. Built-in Privacy Area Desk
Want more privacy while doing your work, but you want that fell in your kitchen desk. This kitchen desk design is appropriate for you. You can have little privacy while you do your work or business. You can add a simple white table and racks.
The big space of the kitchen is the best important to make this design. However, you need more privacy, but you need some light too. So, the biggest kitchen area will bring more light to your desk.
16. Elegant Office Desk Design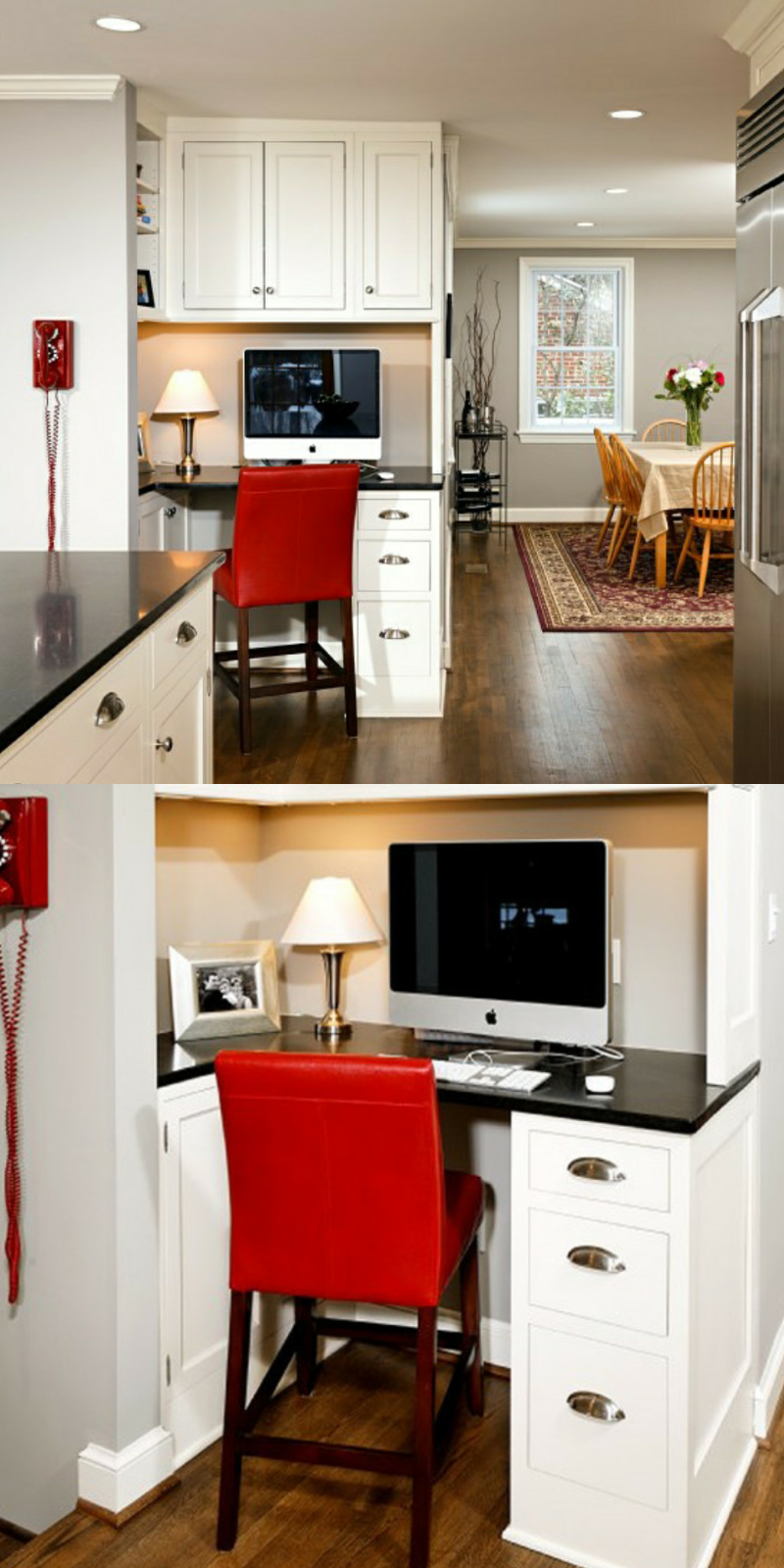 This kitchen desk design is for an elegant person. With a simple place of a luxury red chair and upscale monitor. With a neat place of photos and lamp, make your kitchen desk look awesome.
Also, the combination of red, black, and white color supports the elegant fell. Otherwise, only have small space in the corner, but that kitchen desk looks great.
17. Breakthrough Design
This kitchen desk design is awesome. Kitchen space is extensive that make kitchen desk have enough space. But, only add a small table and chair make them look very expensive. Also, the skylight makes this kitchen desk didn't need lighting anymore.
Then, the sleek white of the counter reflected the natural light from outside. Moreover, great view from the window also supports the excellent taste of this kitchen desk.
18. Vintage Style
This kitchen desk using vintage taste. With the wooden table and chair, also the shelves can provide for kitchenware. This design very soft and nice to look.
Then, the color of that chair blended with the kitchen atmosphere. Also, add the simple rug to make the vintage style seen.
19. Perfect Use Pantry Desk
This small kitchen desk design is nice if you know how to recognize it. Like this kitchen desk design, using a small table from wood and stool from wood materials are perfect action. Customized your table with additional drawers will be suitable.
You can put tools or office stationery in those drawers. Then, adding a small wall cabinet. So, you can put a light under your cabinets to bring light while you do the work. To make it more beautiful, you can add art or plant in your desk.
20. Using Corner
This design is a contemporary design for you. But, using this design didn't make your kitchen desk out of the era. You can combine with modern tools and office stationery.
Also, this kitchen desk style didn't use the big space of your kitchen. Further, this style is appropriate for you to note some recipe or list of your kitchen needs to purchase.
21. Galley Desk
You want to have a kitchen desk in your galley kitchen. This design will be suitable for you. The combination of dark blue and white make your kitchen look superb. Also, adding simple plants in your kitchen bring the natural situation.
Then, perfect choosing of chair and desk material is the most important things. Perfect light from the window behind your kitchen desk makes you easier to take note.
22. Cheerful Design
With bright color and perfect combination in each color make this kitchen cheerful. Adding a kitchen desk in this little space didn't look messy. Because of the combination of color and materials.
This kitchen desk style will be suitable for a creative person. Changing the color, and make it crash, but still nice to look. It's costly artistic taste.
23. Farmhouse Desk Conversion Style
Have a big space in your farmhouse kitchen. It will better if you make the kitchen desk. This kitchen desk style is one of a masterpiece. Using soapstone materials for the desk. Then, using an ancient wood style for the chair.
Also, using expensive floor cabinets and wall cabinets. This kitchen will use a lot of money to make it. So, determine how much you can spend on this kitchen desk. But, it will make your kitchen desk look luxury and be a nice place for work.