Teal Bedroom Ideas. Among many parts of the house, a bedroom is one of the most private areas. It is where we spend most of our time, whether in the morning, noon or even at night. Not only for resting, but the bedroom also becomes an essential space for keeping our privacy safe. That is why making the bedroom comfortable and fits our needs is necessary.
Since there are so many colors available for a bedroom, teal is a perfect choice for those who love soft color tones. It is a result of a green and blue combination that often looks close to turquoise. However, we should be careful while applying this type of color in the bedroom because we need to know the room's needs. Therefore, here we have some details that might help you understand teal design.
What is a teal design?
Choosing the perfect color for a bedroom might not be the hardest thing to do. Since this room is a place for sleeping and relaxing, teal can be a great choice because it is calming and eye-catching. Besides, combining it with other colors provides an exciting view. However, the definition of teal color and what it exactly looks like still confuse us.
Teal is a type of color palette that is calming for sleeping but still fascinating to show off. It is a color in a blue-green spectrum and matches beautifully almost in all colors. Although this color is nearly similar to turquoise, teal is more in-depth and darker. Besides, it reminds us of tropical water and a relaxing oasis. Therefore, applying teal into a bedroom design is beneficial and could be an impressive idea.
Read Also: DIY ideas for decorating your bedroom
Teal Bedroom Ideas
Blue is a beautiful reflection of the sea, and it provides a relaxing effect to our mind, especially if we adapt it to a bedroom design. Since teal is a part of the blue-green tone, it would be perfect to have a room with this color. Nevertheless, before starting to get a teal bedroom, make sure we know how to mix and match it with other colors and styles. Thus, we have found some of the best teal bedroom ideas below that might inspire you.
1. Coastal Blue Touch
Soft blue walls and beautiful ocean theme accessories provide a healthy and natural coastal vibe in this bedroom. Also, the twin beds have simple beddings with little accents on the fabrics. To conclude, this room is perfect for twins or even a guest bedroom.
2. Spacious Master Teal Bedroom Ideas
A large bedroom might be dull and empty, but we can avoid that if we try this design. It has a super large window that allows us to see the scenery outside. Then, the choice of white furniture will not bother us with its simplicity. 
3. Simple Blue Walls
Full teal bedroom walls are suitable with these warm color furniture. Besides, the beddings have beautiful patterns and attractive wall decors. Along with several electric lights, a big window allows the natural light to make the room brighter.
4. Luxury Transitional Bedroom
A middle-sized transitional bedroom looks good with soft blue on its walls. It also blends well with natural light from outside the window and makes the room brighter. Moreover, combining it with teal on some part of the walls can create a calm atmosphere.
5. Relaxing Beach Style
As one of the best light teal bedroom ideas, this one appears elegantly in light teal green. Its beddings, furniture, and accessories fit the wall color exquisitely. Then, the choice of wood floor does not bother the room appearance.
6. Charming Kids Room
Almost every young kid loves the soft color on their walls. However, this one is more suitable for girls who love a combination of blue and pink. It helps them to sleep well and spread a festive atmosphere.
7. Lovely Girl Teal Bedroom Ideas
A spacious area allows the kids to express themselves. Besides, a combination of purple and blue provides a cheerful and girly look. Thus, it makes this room become one of the most unique modern purple and teal bedroom ideas.
8. White Blue Combinations
Powerful teal blue becomes the center of attention in this beach-style bedroom. It functions as a rack for storing books and a barrier to other rooms. Also, the fact that it is placed behind a bed head and fits well with white makes it more eye-catching.
9. Trendy Room Decor
Gorgeous views and calm feelings are the two best things we can get from this bedroom. It has a fashionable choice of furniture and color combinations. Besides, the dark teal bedroom decor looks trendy with a contemporary design.
10. Calming Soft Blue
Sleeping as if you relax on the seashore is what we can describe from this room. It has a dominant soft blue tone that represents the calmness and the sea. For those who are looking for serenity in a bedroom, this one will never let you down.
11. Casual Farmhouse Decor
Combining both dark and light colors in one place can be amazing if we choose them carefully. Just like this bedroom, its beach style looks beautiful with a big open window and bright lights. Besides, a combination of black, yellow, white, and a small teal blue touch blend beautifully in one place.
12. Contemporary Mid-sized Room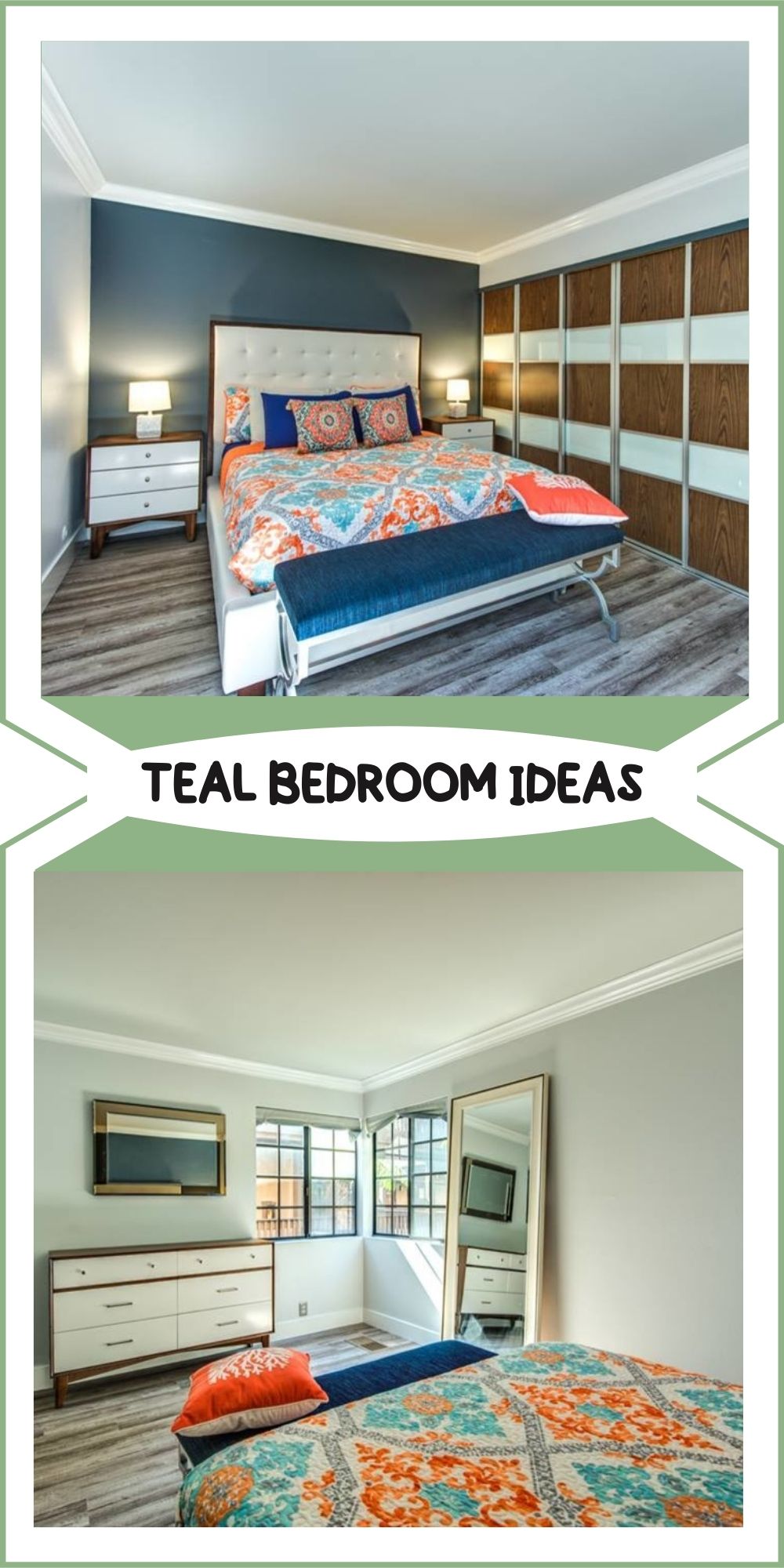 A trendy combination of teal and wood on this bedroom wall provides a contemporary style. It does not look monotonous and will never be outdated. Additionally, the choice of bedding and furniture is fascinating.
13. Fancy Blue Bedroom
A mix of teal and grey bedroom walls will make a fantastic result. Like this bedroom, it has a bit of dark blue, teal, grey, and white touch. Also, all of those color tones left an elegant and dramatic impression.
14. Alluring Pastel Color
A touch of pastel will not hurt us, especially for bedroom walls. It looks impressive and stunning with white furniture. Then, the addition of wall art avoids making the room look tedious.
15. Bold Blue Shade
A bold shade of teal is covering all of this bedroom wall. It fits well with the room's spacious area and looks terrific with contrast colors. Not only those factors, but this teal is also suitable with a big open window. It provides a tremendous amount of light from the outside.
16. Homey Guest Bedroom
Soft teal also provides calmness in a bedroom. It looks stunning with white and other soft color tones. Moreover, the addition of wall arts is excellent for increasing the room's aesthetic view and avoiding boredom.
17. Natural Colors Mix
Pastel teal green mixes beautifully with wood floor and dark furniture. Although these color tones are in contrast, there is no problem with that. Additionally, the use of wall arts creates a charming character, and the whole room design looks completely magnificent.
18. Artistic Wall Painting
Teal as a primary color for black and grey stripes creates a decorative touch in this contemporary bedroom. It also looks great with wood furniture and dim lighting. Then, combining them with white bedding is an excellent choice to make the room more varied.
19. Touch of Green
Another teal green shade applied beautifully here, but this one looks darker. It is suitable with white on one side of the wall and blue on the furniture. To conclude, all of those colors create a simple and natural look.
20. Two-tone Walls Inspiration
Almost similar to the previous bedroom idea, this one also has teal green and white on its wall. However, this bedroom has artistic accessories and decorative arrangements. Although the room is super simple, it does not look dull or uninteresting.
21. Elegant Single Room
A single bedroom can be an elegant and luxurious place in this teal design idea. It only needs the addition of grey bedding, white furniture, and small blue touches. Also, with the right arrangement, this room can be a cozy and perfect space for relaxing.
22. Bright and Beautiful Teal Bedroom
A room with a lot of sunlight is always fascinating, especially if using this teal tone. It fits well with the light quality and the choice of furniture. Besides, this master bedroom has a modern style and shows an open and relaxing environment.
23. A Mix of Blue and Grey
Although this teal bedroom furniture mostly has a grey tone, it is always suitable with the dominant blue inside this bedroom. Moreover, the transitional design looks very obvious. It is so well-ordered and excellent for taking a rest.
24. Simply Peaceful Teal Bedroom
A beach style is always suitable with soft teal in this mid-sized bedroom. It makes the room look spacious and does not hurt our eyes when we pair it with other soft colors. Furthermore, the dark wood floor helps to create a various touch and a natural atmosphere.
25. Dreamy Colorful Home Teal Bedroom
Bold teal creates a calming feeling when it is applied in a bedroom. It looks nice to pair with soft or darker teal blue on the furniture. Also, we can get some artistic teal bedroom accessories to make the room look extraordinary and full of color.
26. Orange Green Combinations
A combination of orange and green is both sweet and pleasing. Its aesthetic side causes us to relax and feel better inside this bedroom. Besides, both colors make the room look enormous and more fun.
27. Vintage Shabby-chic Decor
A shabby-chic style is often associated with blue or teal blue. Similar to this vintage bedroom, it shows us charming and fabulous decorations. Its overdyed teal wall and soft blue bedding create a unique and romantic atmosphere.
28. Artistic Pale Green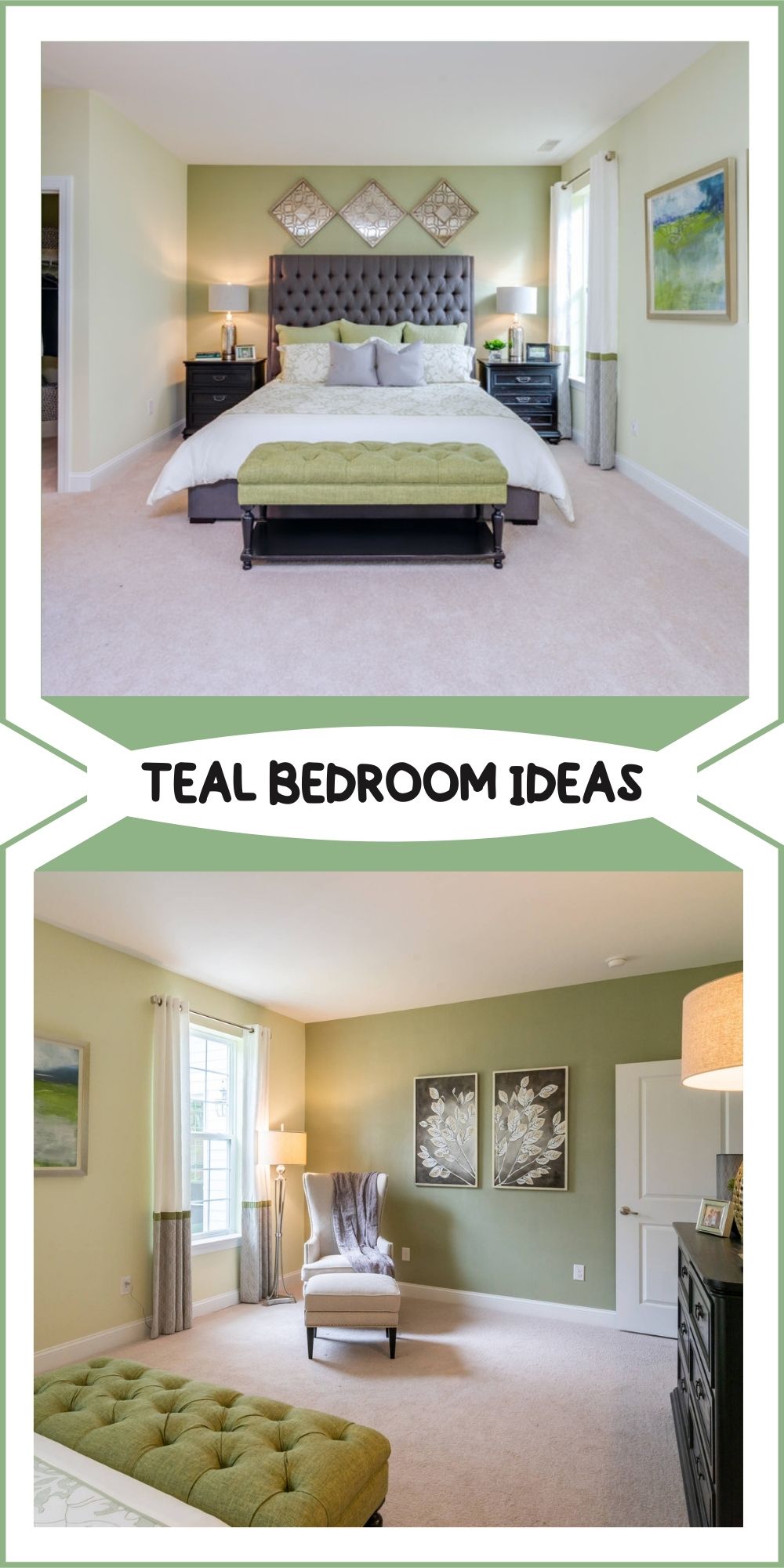 A transitional bedroom often appears in natural and white, but this one is also unique, with soft teal green on its walls. Not only on the walls, but it also looks beautiful in furniture. Moreover, some black and darker furniture creates a various interior view and fits well with green.
29. Blue Patterned Wall Bedroom
Patterns on the wall can increase the artistic and contemporary side of this bedroom. Besides, the room design looks fantastic in a combination of blue and grey. It is both trendy and peaceful for sleeping and relaxing.
30. Romantic Casual Style
Having both a casual and luxury room in a house is always possible, especially like this beach-style bedroom. It provides a romantic nuance with comfortable bedding and artistic photographs. Other than that, the teal and white walls are suitable with several shiny lightings surrounding the room.
31. Tween's Pretty Teal Bedroom
Tween loves a colorful and fun room design. It looks perfect here with teal color tones and lovely wall decor. Besides, tween also needs a room that can receive a lot of natural lights. That is why teal is excellent to absorb it nicely into this room.
32. Forest Green Wall Bedroom
Almost similar to the previous transitional bedroom idea, this one also has a green touch on its wall. However, the green here is more in-depth, and there are patterns on other wall sides. To conclude, the room has a lovely arrangement which makes it tidier and symmetrical.
33. Wonderfully Unique Furniture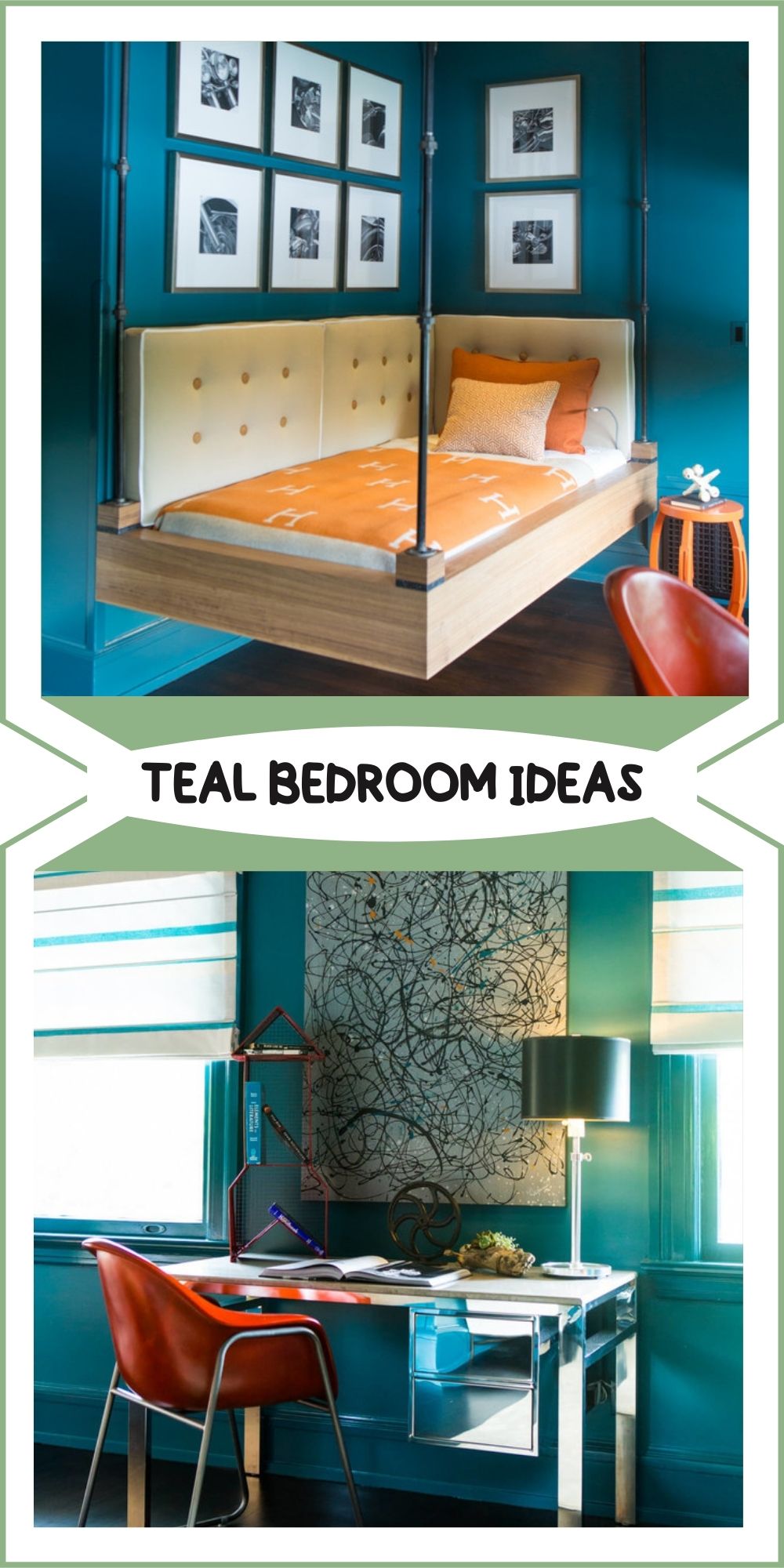 An industrial-style bedroom like this one can never be far from its unique ideas. It has an unusual hanging bed that is surrounded by dark blue walls. Then, the use of beige bedding and photographs on the wall complete the room attractively.
34. Cozy Sleeping Place
Trendy and up-to-date are two things we can describe from this master bedroom. It is covered with dark teal blue walls and beautified with black and white accessories. Also, its simplicity will never underestimate those who love contemporary bedroom design.
35. Girly Teen Teal Bedroom Ideas
A soft blue tone bedroom is an incredible choice for a teenage girl. If the room is not so large, this color can make it look spacious. Moreover, adding a small touch of darker blue or purple would help to avoid boredom.
Conclusion
Like other blue tones or turquoise bedroom ideas, teal designs also look excellent for decorating a bedroom. Not only provides a positive and pleasant atmosphere, but teal is also beneficial to increase sleeping quality. Nevertheless, make sure you mix and match it with the right styles and other choices of color. In conclusion, do not hesitate to have this marvelous and unique color in your room.