Basement Ideas for Kids. As the weather is getting colder and it snows, you may find that the kids are preparing to go out and play. When it's too hard to play outside, your child will probably need to find other ways to release their energy and creativity. A great idea to keep the whole family in the house is to give them a particular section of the house to keep their body and imagination active. A basement for kids is the perfect solution.
If you want to leave the basement to the kids, you might want to think of creative ways to use the space. If you are thinking about creating your basement fun for your kids, we've already done some of the research for you. However, keep colors and themes easy to update as your children get older.
Read Also: Fun Tween Bedroom Design
Kids Playroom Ideas for Basement
The playroom should be functional, engaging, and inspiring for children and their friends. You need an open floor space with cushioned floors or area rugs and comfortable furniture. Thus, for toys and games to be a good choice, they must be interactive and have a quiet place with sensory material.
1. Woodland Kids Playroom Basement Ideas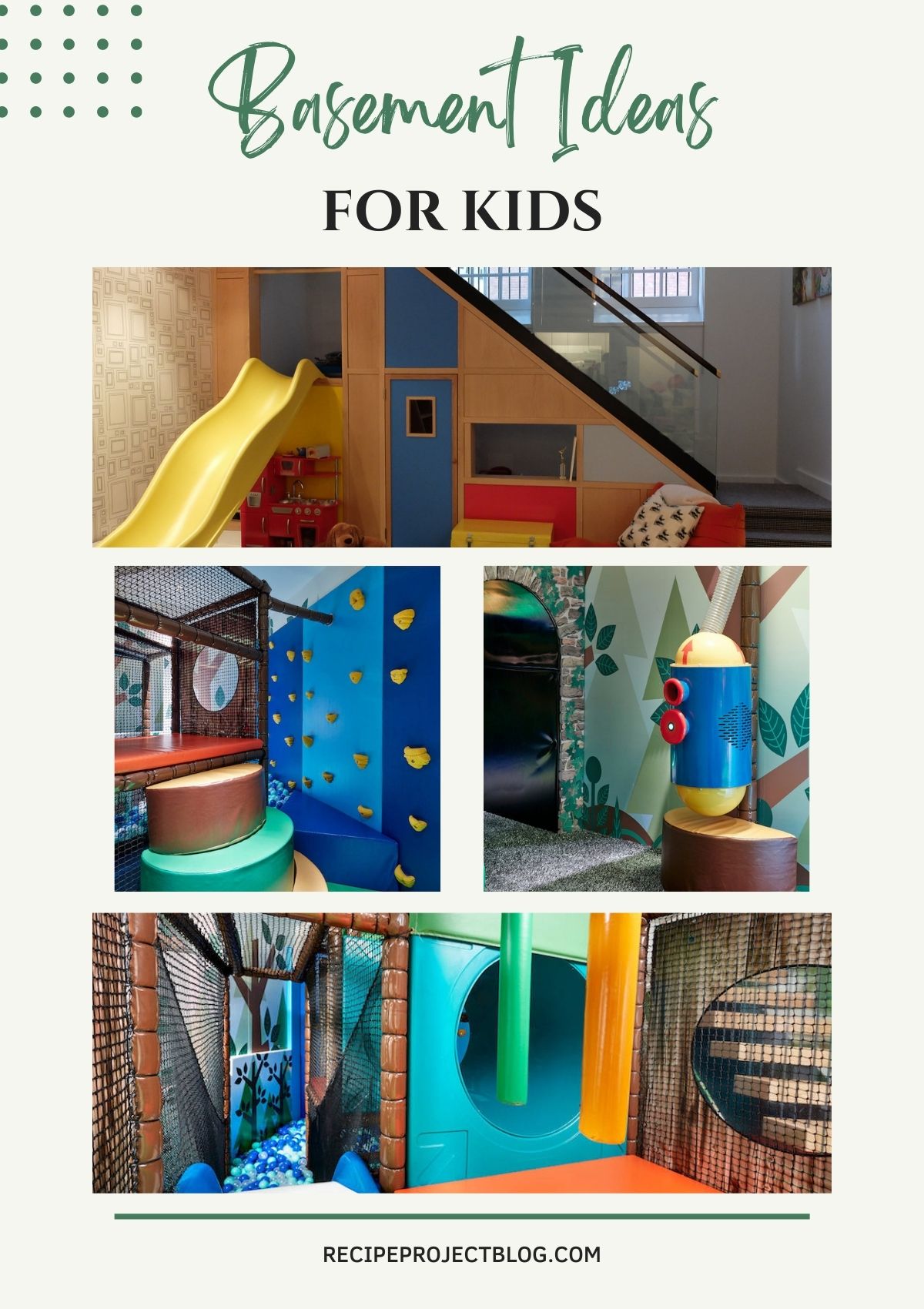 As said, the theme for this playroom is forest. It is a significant and attractive playroom for your kids and their friends. It would be best to choose the right furniture and toys as they should be in green or wooden color. Thus, making it gender-neutral is the safe option. For the carpet floor, you can use a green or gray rug.
2. Multicolored Kids Basement Playroom
If you are preparing a playroom for the new baby, choosing a neutral tone is the best option. Here, you can set an area of the basement corner to be the playing space. You can start with setting up the furniture, such as a sliding board. Then, wall patterns and multicolored floors are still nice basements decorating ideas for kids.
3. Open Kids Playroom Ideas
For open space, you can maximize everything that creates an attractive area for kids. First, you choose a colored floor with a hopscotch pattern. Next, setting a treehouse in the corner with other toys surrounding it can make your kids happier. However, your kids can have a great time playing with various toys here.
4. Traditional Kids Playroom in Basement Ideas
The theme is conventional playroom kids, but it has a whole thing. Your kids can play sports here such as basketball or football. Then, add a sliding or doll area for fun basement ideas for kids. Indeed, the flooring choice is excellent here, with medium wood flooring.
5. Fun Basement Ideas for Kids
Actually, the neutral tone looks dominant with a beige wall and floor. Then, a spacious area in the middle will make a fun activity with toys. You can also have shelves or cabinets to store the book toys and arrange them nicely.
Another station that is needed in the kids' basement area is the homework station. This area will be crucial as soon as your children reach kindergarten age. If you create an entertaining, cozy space for them, you may get less fuss with their homework. Thus, it also helps them learn time management and organizational skills.
6. Toddler-friendly Basement Playroom Ideas
For a toddler, colorful yet simple decoration is enough. You must give ample free space for exploration. Adding a tent as a centerpiece is a great move. However, make sure the toys are safe for your toddler.
7. Family Headquarters Basement Playroom
Having boys in the family is a challenge. We must prepare an area in the basement for children and friends to play together. We can change a basement room into a park. Then, basketball hoops, climbing ropes, swing chairs, rock climbing walls, and climbing bars provide lots of opportunities for boys to release energy. The tall built-in wardrobe and drawers seats provide ample storage space for all of the toys.
8. Basement Game Room Ideas for Kids
A large play area with TV is a perfect multimedia playroom. Having some drawers on the wall side is ideal for storing the toys. Then, arranging books surrounding the TV cabinet will make it tidy. Further, don't forget to use neutral colors on the wall and floor.
Basement Design Ideas for Kids
Sometimes, when you create an escape for your kids, it is better for them than for you. To turn your basement into the best play area for the kids, give them their own purposeful play space and get them out of your hair for a few minutes. Let's find some basement ideas for the kids area here.
1. Trendy Basement for Kids Ideas
Cheerful lightroom is a suitable tone for kids. You can have two different wall colors, such as pink and blue, for gender-neutral. Then, a light wood tone floor and colorful shelves will help you fill the room.
2. Small Eclectic Basement Ideas for Kids
Having a kids' area will be the best in a small extended area basement. You can start with a colorful wall design. Next, using light-colored furniture is a great one. Furthermore, you can use the countertops for kids to display their toys.
3. Contemporary Entertainment Space & Playroom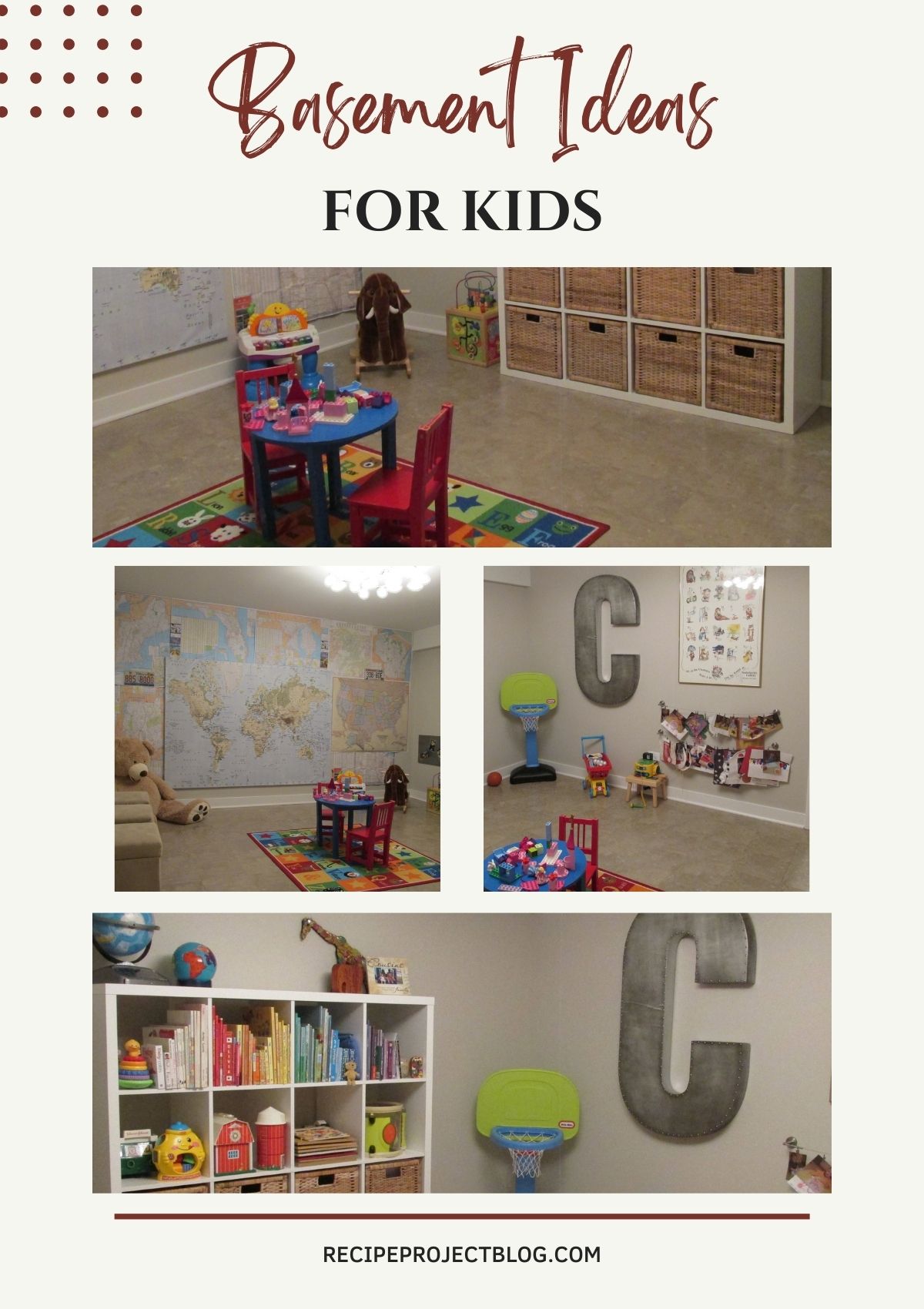 This might be the best idea for a mid-sized basement for kids' space. A simple open bookcase can be the first piece of furniture to store toys and some books as well. Then, mini tables and chairs for kids playing make the room complete.
4. Wall Climbing Basement Kids Play Space
Children need a lot of activity, but going out on a hike isn't always possible. Bring the adventure indoors and install a climbing wall at home. Basement development is the perfect time to build a climbing wall with plenty of soft rugs and cushions for upholstered landings.
5. Game Room Bench Seating Basement for Kids
If you want an open space for playing and gathering, this would be the best. You can set a bench where your children can sit together while you play. Then, this room is not only for kids but also can be for adults as well. Set some board games here for teens or adults; then, your gathering will not be boring.
6. Basement Entertainment and Kids Room Ideas
The idea for basement renovation is here. You can add more living space in the kids' play area. You just need to create a complete tone for playing and chilling with color choices.
When the renovations are complete and the room looks good, you are excited to show your family. The family's lives have changed since they had to renovate the basement. You're probably not going to get to see the new room today because you didn't wake up on time. You would spend a lot of time in your basement crafting, playing, working, or just relaxing while watching TV.
7. Traditional Carpeted Playroom Ideas in Basement
Even if it is a traditional design, you can still make it trendy with color and furniture choices. Some seats in the center are for kids to play or study. However, open shelves and drawers are great storage choices. It is for toys and books as well.
8. Finished Basement Ideas for Kids
A timeless design might be a people's choice. It is not for one kid, but you can still use it for another. Then, for the girl, this idea might be perfect. A carpeted area with pink and clam color will be the best area for kids to waste time. Don't forget to have chairs and storage for their stuff.
9. Basement Ideas for Kids Studying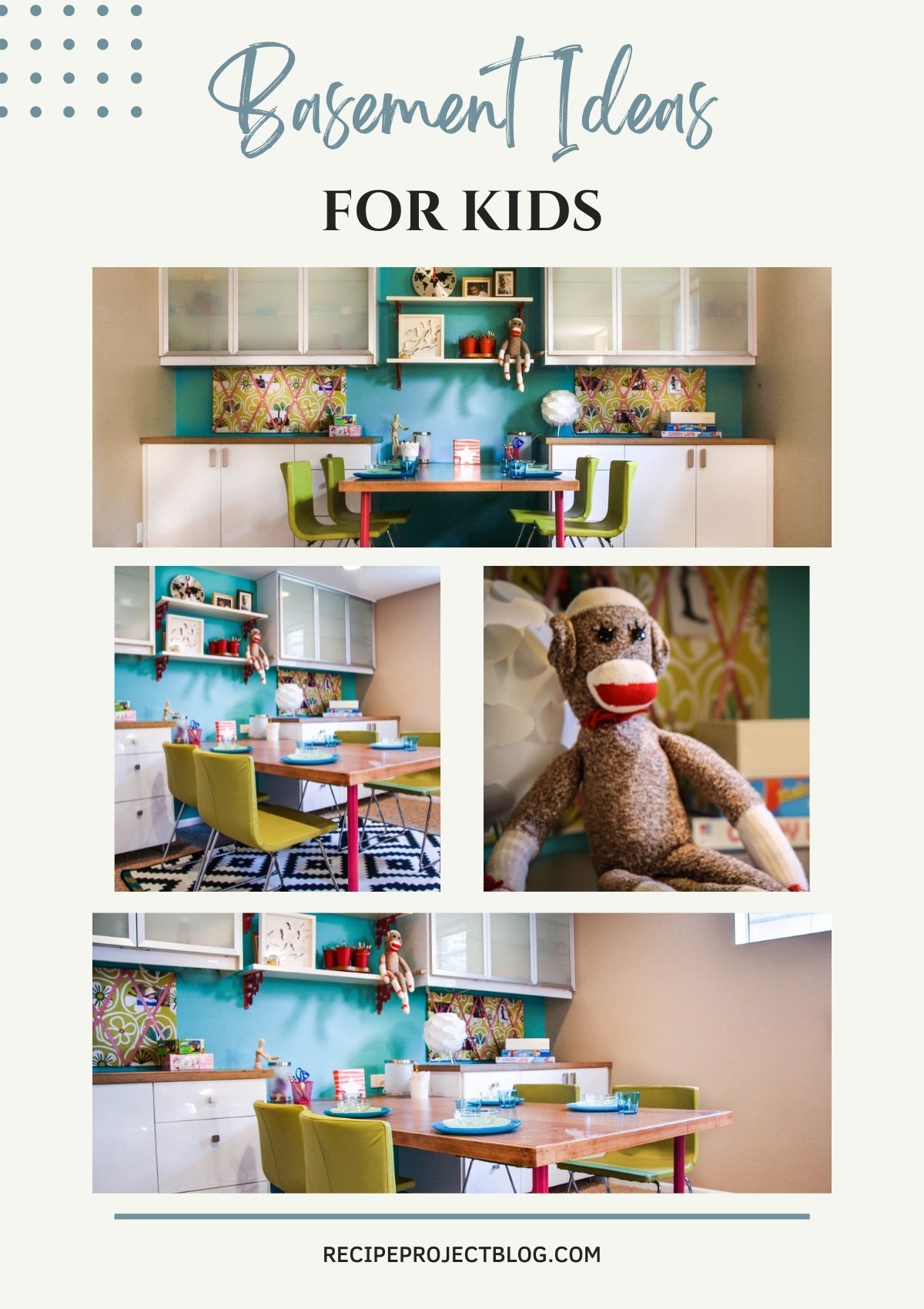 Besides a playroom, you can create a study room for kids in the basement. You have to make sure to make it as comfortable as you can. Because it will help your children to stay focused while learning. Comfy seats, desks, and furniture will surround the area.
Basement Remodeling Ideas for Kids
Turning your basement into a playing space for younger kids will mean something. They are encouraged to stay away from places you might prefer they not visit, like your office. A place where a kid can be by themselves is what they like. Here are fantastic makeover basement ideas for kids that you can use for your next renovation.
1. Arts and Craft Basement Ideas for Kids
An old playroom in the basement needs a renovation, so make this a reference. You can make it like an outdoor theme with a tent in the room. Thus, for a calm feeling, use many white or light colors. The lighting here is essential as it supports the tone.
2. Basement Storage Ideas for Kids Stuff
You can turn a large suburban basement into a farmhouse-inspired kids' playroom and craft room. Kid-friendly, bespoke cube and bench storage is designed to store various toys and books, using mixed wood and metal materials for texture.
The vibrant, gender-neutral color palette contrasts with the neutral walls and floors and sophisticated black accents in mid-century art, wall sconces, and hardware. Adding a teepee to the play area was the perfect, fun finish! This children's area is adjacent to a family-friendly, open-concept media room
3. Minimalist Boy Room in the Basement
It looks simple for the boys playing area. Even Though it is enough to make them play all day. Simple playing items such as mini basket rings, sliding, and cars can be your options. Multicolored walls and floors are a must to make it a joyful tone.
4. Party Basement Room for Kids
Having a party theme will be a great idea. For girls, this idea is one of their favorites. They might only need a few toys but will be amazed by the decor. Thus, they will feel comfortable. Further, it can be their favorite room in the house.
5. Gray Wall Boys Room in Basement
As a playroom, you can design one room in the basement like this. The calm feeling from the gray wall and wood flooring just hit different things. A mountain accent in the wall can create special effects. Then, artificial clouds hanging in the ceiling make it more real.
6. Rustic Basement Remodel Ideas for Kids
It is a great ideas for basement kids room. With a rustic theme, it looks pretty industrial but cool at the same time. Even though the room is for every gender, kids with various toys and furniture support playing. Thus, a desk and chairs in the middle can be their study area.
7. Elegant Kids Room Basement Renovation
What is elegant here is the furniture and design of the room. Bench and great lighting make it look like an entertainment space. However, the carpet and a basket of toys show it is for your kids.
8. Fun Kids Room Basement Renovation
They might write everywhere when you have active children, including on the wall. With a black wall, they can show their creativity. However, the choice of the painting is important here. Nowadays, paint comes with various technologies, such as erasing stains.
Conclusion
We hope these basement playroom ideas have inspired you. If you want to place a playroom in the basement, you will need to do some work. Planning a functional design is the best, to begin with, an unfinished or remodeled basement. It will evolve with your family and will add many years of fun family time and value to your home.